Combining ultramodern design, wireless video transmission and lifelike cinematic color, W3000 complements any room while delivering amazing audiovisual experiences.
With 6X Speed RGBRGB Color Wheel, W3000 is calibrated for cinematic color modeled on the HDTV standard, Rec. 709, to deliver refined colors that are the truest possible reproduction of the original palette of your video.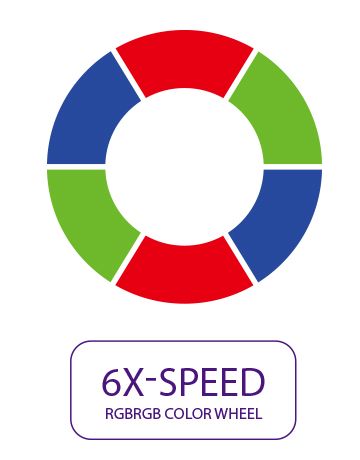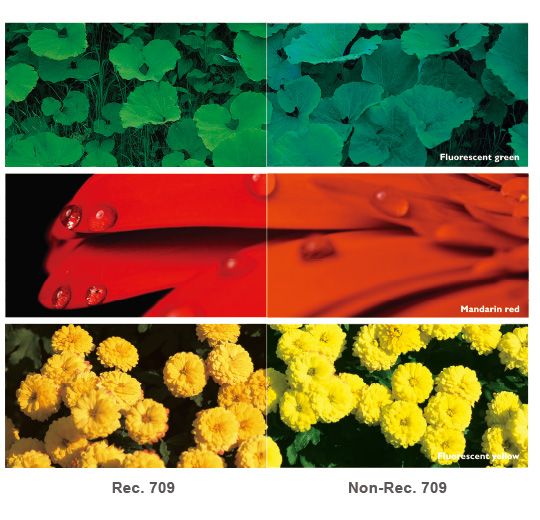 How Our Projectors Are Designed for Rec. 709
Only displays that conform to Rec. 709 can reproduce colors correctly in all images through an entire movie. While most projector manufacturers choose a saturated color tone bias to increase colorfulness, resulting in color accuracy loss, W3000 achieves the Rec.709 color standard. The process of building a projector includes many variables such as lenses, lamps and color wheel coating. We work relentlessly to close any gaps from those variances and to make our projectors perform exactly to Rec. 709. This is because we believe that colors matter to our users when enjoying movies as they were meant to be seen.
Hardware Design
BenQ's ISF-trained expert engineers tried more than 20 different combinations of color segments and color wheel coating, the factors that directly affect color gamut and brightness of a projector.
Software Optimization
To maximize color accuracy, the process of software optimization involved adjusting the blacks, whites and greys towards D65 defined by Rec. 709. And the three primary and three secondary colors were adjusted one by one, until they were as close as possible to the references on the Rec. 709 color gamut.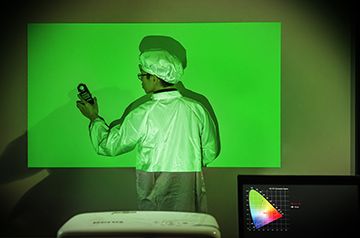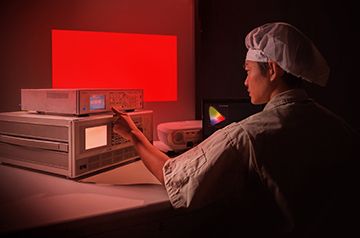 Production Line Quality Control
Three color adjustment stations in the production line perform final checks on every single unit of our Rec. 709 projectors. Using exclusive BenQ color adjustment procedures, we make sure each projector is manufactured according to the Rec. 709 color standard, and BenQ quality engineers perform final color tests on each projector built to ensure Rec.709 performance.
Spectacular Full HD 1080p Visual Performance
Treat your eyes the brilliance of a 1080p Full HD optimized optical system crafted with only pure glass lens elements. Enjoy HD content with the finest clarity and sharpness – from Blue-ray and video games to live broadcasts.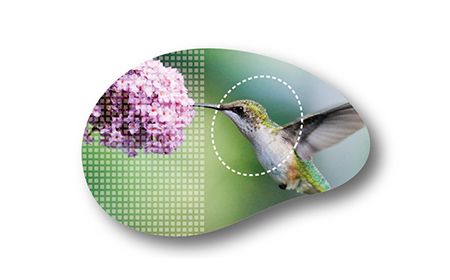 Full HD 1080p Picture
Delicate Image Resolution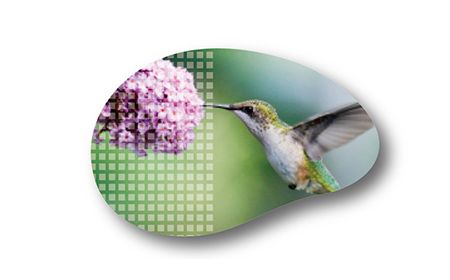 Non Full HD Picture
Low Image Resolution
Motion Enhancer
Inserting 36 interpolated frames between sequences produces seamless, vivid 60 frame-per-second videos. You'll be the action hero of your own theater, crushing the evils of laggy images, jittery playback, and blurry shadows.
Color Enhancer
Color Enhancer modulates complex color algorithms to flawlessly render saturated colors, fine gradients, intermediate hues and subtle pigments.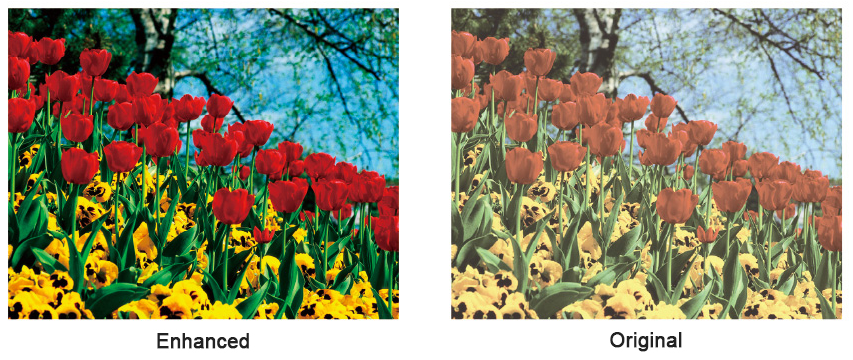 Pixel Enhancer
Pixel Enhancer is a motion-adaptive edge enhancement feature that detects changes in color between an object and its background to produce sharp edges and precise surface textures.
Flesh Tone
The Flesh Tone feature prevents discoloration of skin tones from the light of the projection beam, portraying every skin tone in its most beautiful shade.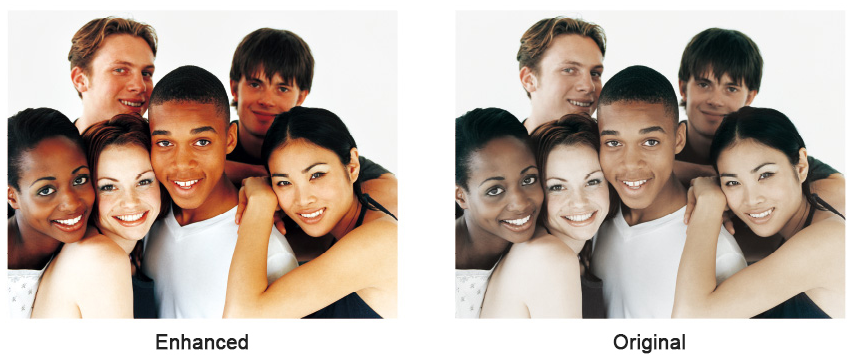 With 10-watt speakers housed in resonant sound chambers plus BenQ Audio Enhancer powered by MaxxAudio, your sound booms with Waves' breakthrough algorithms used by Hollywood studios, to dramatically boost bass and treble for serious stereo sound.
Independent 3D Color Control for All 6 Primary Colors
BenQ's unique color management tool allows you to fine-tune the gain, saturation and hue of six primary colors (R/G/B/C/M/Y) individually. So you can customize your colors to mimic nature, to simulate other galaxies, and to everything in between.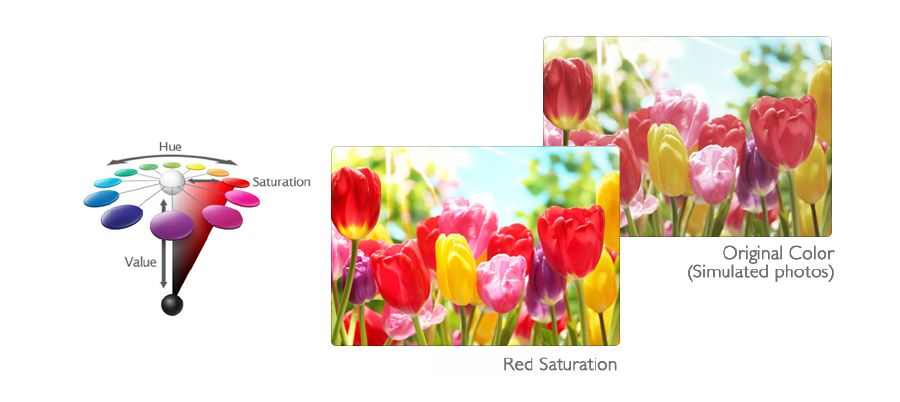 ISFccc®Certification
Professionally Calibrated Visual Entertainment
With the Imaging Science Foundation's highly reputed ISFccc® calibration built-in, the W3000's image and color performance can be customized for any space, along with preset light balance modes for day and night.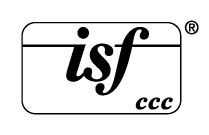 High Contrast, Razor-Sharp Image
As the world's No.1 best-selling DLP projectors, BenQ living room projectors create real-world performance with an ANSI Contrast Ratio that significantly surpasses that of non-DLP projectors for powerfully clean and crisply detailed images.
Class-Leading High Fill Factor :
Featuring class-leading High Fill Factor, the W3000 shines more light into each pixel, improving definition for small text and fine details, and eliminating "screen door effect", for beautifully rendered images.

BenQ SmartEco™:
An ingenious solution that intensifies your viewing pleasure while saving money, SmartEco™ automatically adjusts lamp brightness based on content to project richer blacks and increase contrast for tiny text and subtle details.

Flawless All-Glass Optics for the Best Viewing Quality
The BenQ 1080p Full HD optical system uses only the highest grade for superior light penetration and realistic image quality. Proprietary low-dispersion lens coatings minimize chromatic aberration, so you can enjoy your favorite HD content with brilliant clarity.

Superior Short Throw Projection with 100" of Big-Screen Enjoyment at 2.5 Meters
Maximize thrills in minimum space with BenQ home projectors that require as little as 2.5m to project stunning 100" pictures. Bring big-screen theater entertainment into whichever room you like.
Big Zoom for Big Pictures in Any Space
A staggering big zoom function maximizes available space for a range of throw distances and big-screen entertainment without the hassle of complicated installation.
Side Projection with 2D Keystone
Horizontal and vertical keystone correction eliminate trapezoid effect when the projector is placed at an indirect angle, allowing you to set up in a corner or on a side table to free up valuable space for active games or comfortable lounging.
H/V Lens Shift for Extra Flexibility
With BenQ home projectors, you control the H/V Lens Shift to fit perfectly into any room with a dynamic range of projection distances and heights. Shift the image vertically or horizontally by adjusting the lens without sacrificing image quality.

Novice-Friendly Setup Wizard
First-time setup with this home projector is such a breeze, you'll be done before you know it. Simply follow the step-by-step pictures provided by the setup wizard, and the W3000 will be perfectly customized.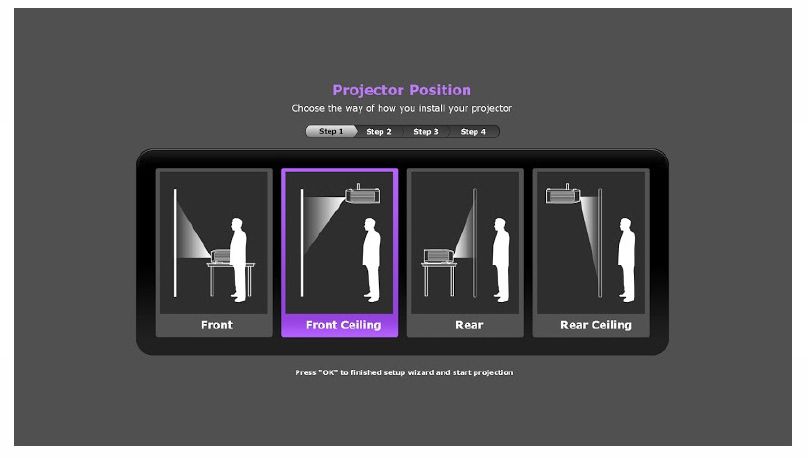 Easy Projection onto Any Color Surface
Wall Color Correction adjusts colors to keep the viewing experience true to the original recording on any color surface.

The Wireless Full HD Kit is a killer companion to BenQ home theater projectors – stream uncompressed 1080p content, even in 3D! With a wireless range up to 100 ft. from four powerful antennas, you get crystal clear streaming, even through walls.
One-Time Setup pairs with the projector automatically stays that way, while Zero Latency performance gives you smooth video and gaming with virtually no lag. Four antennas provide up to 100 ft*. of coverage and Dynamic Frequency Selection switches channels for smooth, sharp streaming.
*Line of sight. Transmission distance depends on actual environment. Stated distance is based on line-of-sight measurement. Structures constructed of steel, wood, concrete, or brick may decrease transmission distance.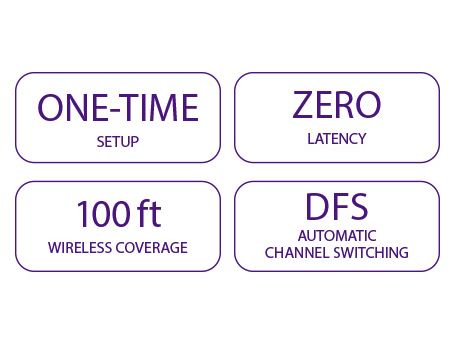 Wireless FHD Kit (optional)
• Uncompressed streaming with resolution up to 1080p 60Hz
• Stream up to 100 feet with no latency for great gaming experience
• Ultra stable and fluent streaming quality
*Available in select regions.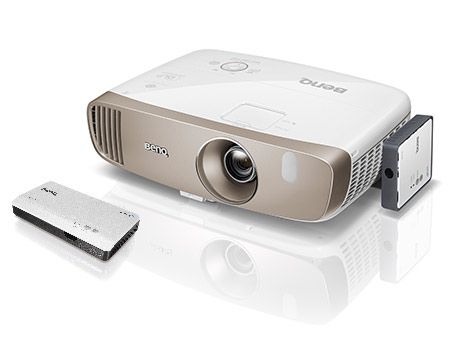 BenQ DLP® Projectors Perfectly Long Lasting Picture Quality with DLP Projection Technology
Digital Light Processing (DLP), awarded 2015 Academy Award of Merit (Oscar® statuette), is the leading projection technology used in 90% of world's digital cinemas and 100% of IMAX theaters. With DLP dominating the worldwide projector market with over 50% share, BenQ is today the #1 bestselling DLP projector brand, delivering unmatched world-class performance.
Accurate
BenQ DLP Projectors produce the most intensely realistic colors and vivid images possible. By combining pioneering BenQ innovations such as interchangeable six-segment color wheels with DLP BrilliantColor™ Technology, our projectors accurately reproduce hard-to-match colors such as skin tones and precisely render Rec.709 and sRGB standards.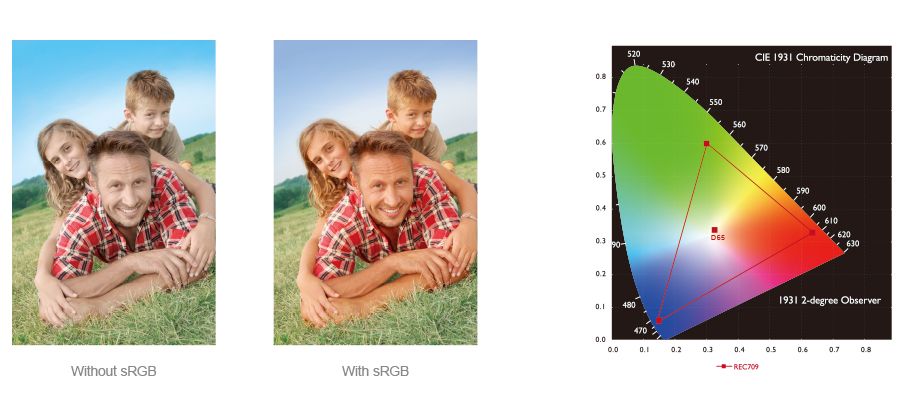 Long Lasting
The incredibly durable micro-mirrors of the DLP chip and the nearly-sealed DLP engine design mean that BenQ DLP Projectors stand the test of time without any loss in picture quality. Eliminating dust buildup and heat damage, BenQ projectors shine year after year and look as good as new with a simple lamp change.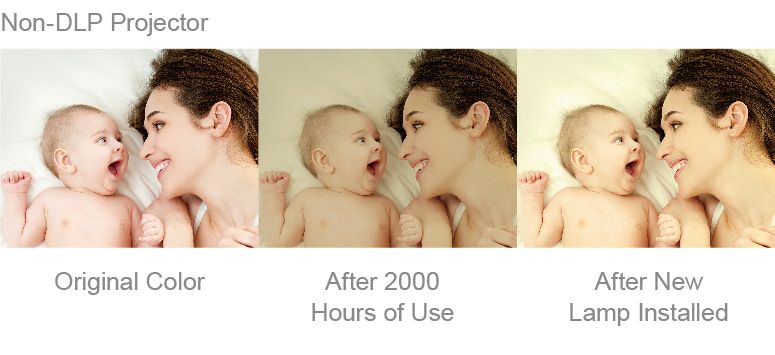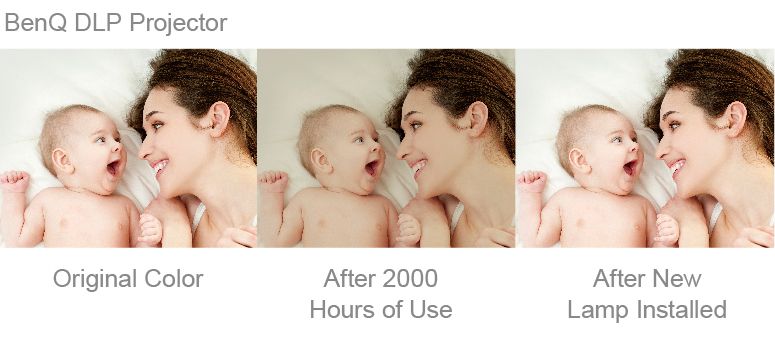 Razor-Sharp
Critically acclaimed for industry-leading high contrast, BenQ DLP Projectors also produce the most crisply defined sharpness for crystal-clear details and legible text by maximizing the fill ratio of individual pixels and employing exclusive BenQ SmartEco™ Technology.