Brilliant Image Performance
6500 ANSI Lumens
It doesn't matter where you are, with 6500 ANSI lumen high brightness, the SH963 will always give you the best clarity under the brightest lights! So, take advantage! Stay in control and enjoy perfect presentations and the nest interactions with your audience!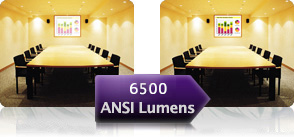 Full HD 1080p Magnificence
With the BenQ SH963, business presentations will never look the same ! The SH963 supports multiple video formats including 480p, 576p, 720p, 1080i and 1080p – giving you the flexibility to present in the video formats with Full HD quality. The BenQ SH963 sets a new standard of video presentation that delivers 5X more detail than traditional 480p projectors.
High Contrast Ratio
The combined expertise of BenQ's projector know-hows delivers an astounding 8,300:1 contrast at the highest to significantly improve the black level for superbly rendered image definition.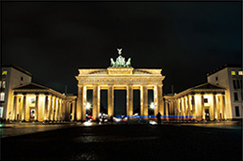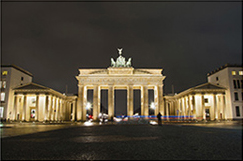 Hollywood Quality Video (HQV™) Processing
A sophisticated image-processing engine, HQV converts standard definition (SD) and regular HD video sources to Full HD-like image quality with 80% precisely scaled picture quality. HQV works with both analog and digital video sources.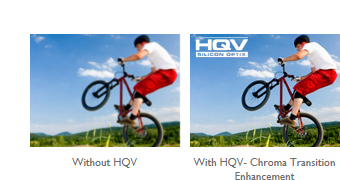 Independent 3D Color Management for Six Primary Colors
BenQ's exclusive 3D color management tool ensures 100% uncompromised color customization with the freedom to independently fine-tune the hue, grain and saturation levels of all six primary colors (R/G/B/C/M/Y).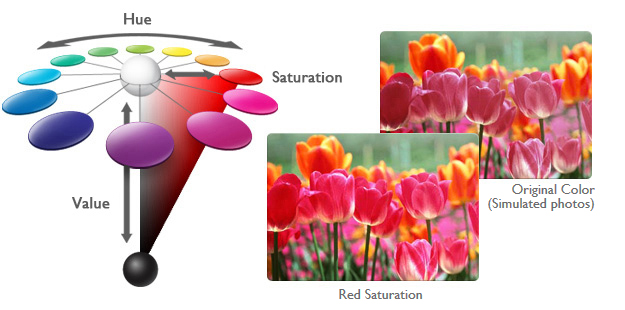 Diversified Options for Control, Manage and Display
LAN Control Centralized Projector Management
LAN Control enables IT managers perform day-to-day projector maintenance and repair tasks efficiently and effectively – offering them full access and control over every projector directly from their workstations. The SH963 offers seamless support for the Crestron and PJ-Link Control system.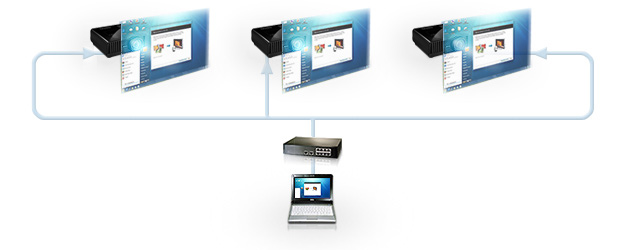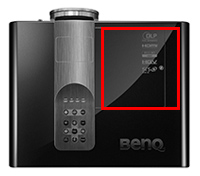 Upper Lamp Door for Easy Lamp Access
The upper lamp door is designed for IT managers to replace the projector lamp safely and quickly. should the projector lamp go out in the middle of the class, it can be replaced without delaying the class.
Big Zoom for Extra Projector Installation Flexibility
SH915 1.5x big zoom feature opens up space with an impressively wide range of throw distances. All you have to do is simply place the new projector right where your original ceiling mount is. Without adding projector setting re-construction costs to your budget list, you'll get to save the money for better use.

BenQ DLP® Projectors︱ Long-Lasting Image Perfection with DLP Technology
Timeless Image Quality
BenQ DLP Projectors are built with enduring enjoyment in mind, ensuring razor-sharp clarity, ultra-readability and true-to-life color for years to come. We use leading-edge DLP Technology to reflect pure light from millions of micro mirrors on a DMD chip through our advanced color wheels. Since the mirrors are colorless and protected within a nearly-sealed engine, BenQ DLP Projectors have no aging problems and are virtually immune to image decay, consistently delivering picture excellence time and time again. In fact, after 2,000 hours of intense usage, inserting a new bulb produces image quality comparable to a brand-new projector.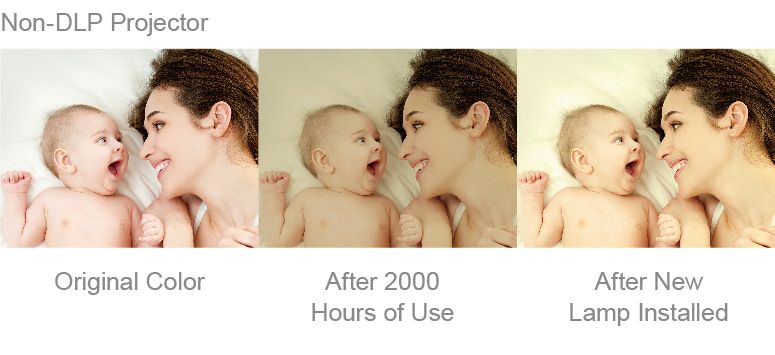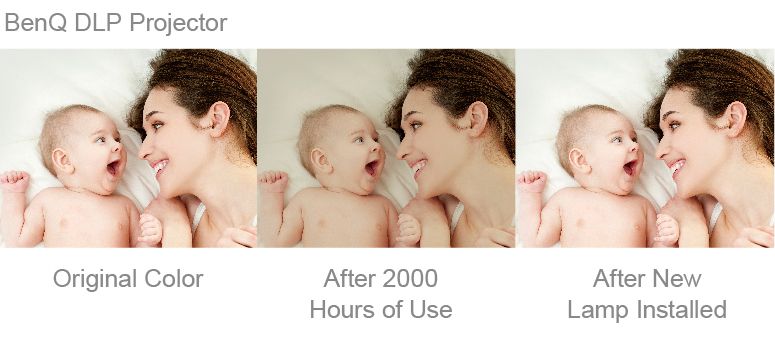 DLP Technology also affords a filter-free engine design for carefree confidence in long-lasting image quality and reduced total cost of ownership. BenQ's SmartEco™ Technology further boosts contrast performance and image quality endurance while saving up to 70% on lamp power consumption.
Razor-Sharp Clarity with Ultra-Readability
Enabling a 96% fill factor, DLP Technology supplies pixel circuitry behind the pixel, thereby eliminating the thick dark bezels around individual pixels, which diminish color and detail. A higher fill factor and less black border translate to noticeably purer, more intense color and smoother image quality.
BenQ DLP Projectors also feature high contrast ratios for flawless rendering of small text, fine lines, and dark scene details. Blacks are deeper and overall image quality is more focused and clean. Your presentations will be easily readable and highly effective, even from the back row of a well-lit venue.

Vibrant, True-to-Life Colors
Even in lit venues, BenQ DLP Projectors achieve the optimal balance of brightness and color accuracy, with BrilliantColor™ Technology additionally boosting true-to-life colors that captivate. BrilliantColor enables up to six-color processing by incorporating the secondary colors Yellow, Cyan, and Magenta along with primary Red, Blue, and Green. From intense hues to elusive mid-tones like aqua blues and light yellows, your every presentation is rendered in pure, living splendor.

                (All photos portraying projection scenarios are simulated.)
ecoFACTS Label
ecoFACTS can tell you how eco-friendly BenQ products are!
Development of eco-friendly products, BenQ doesn't just want to comply with green regulations passively, but also to actively develop eco-friendly products!
ecoFACTS declares BenQ's greatest efforts on the replacement of hazardous substances, material selection, packaging design, energy-saving design and other aspects of the products.