Breathtaking Clarity and Brightness in Business Projection
BenQ, the #1 global bestselling DLP projector expert, unveils the new S9 Series, combining precise picture quality, stunning brightness, absolute reliability, and flexible operation for professional users and installers. Sleekly styled in a streamlined brushed-metallic design, the S9 Series' jet-engine inspired central lens pumps out intense high brightness for lights-on presentations in large, well-lit conference rooms. Powerful, business-minded features such as big zoom, lens shift, and 2D keystone make even the trickiest installations simple; and enduring quality, accessible maintenance, intuitive and quiet operation makes the S9 Series the ideal choice for demanding daily business use. Experience the exacting image performance of BenQ's pure optics and DLP super contrast to deliver the best presentations each and every time, all with ultramodern style.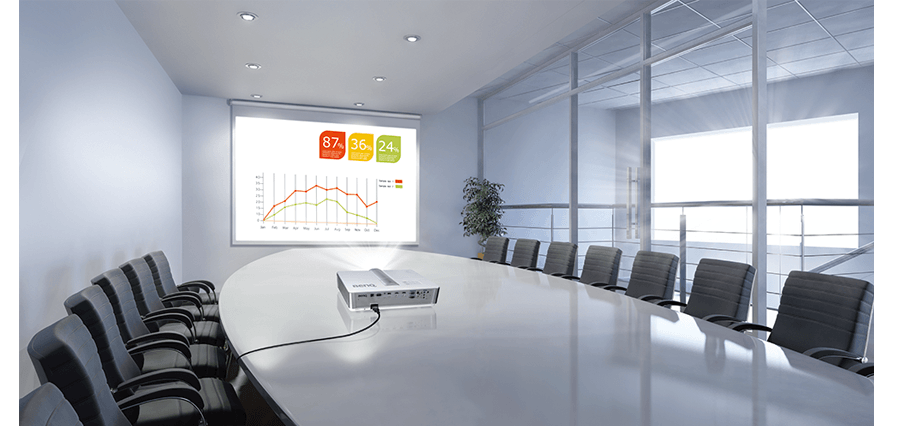 Modern Industrial Design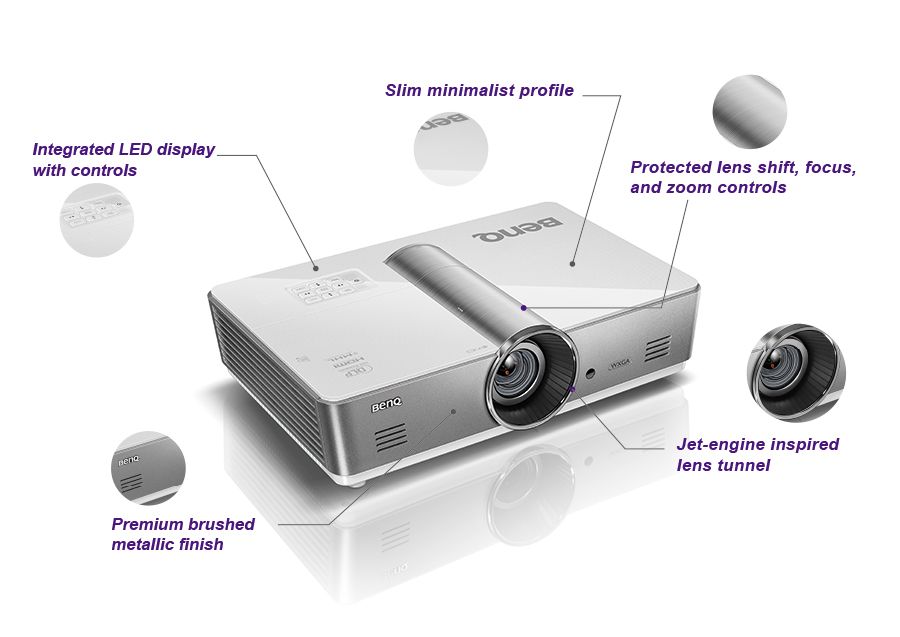 Installation Flexibility
Big Zoom 1.6X
1.6x Big Zoom feature frees up space with an impressive range of throw distances, giving you the flexibility of placing the projector without compromising your current decor.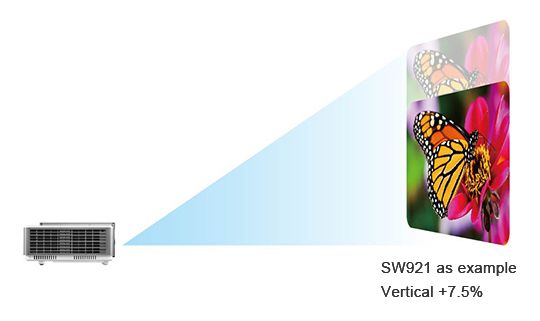 Vertical Lens Shift
In case of any minor miscalculations during projector installation, the lens shift function can be used to adjust the position of the projected image to fit the projection screen without any sacrifice to image quality.
Central Lens Design
Unlike offset designs, BenQ's symmetrically centered lens design allows easy installation without special calculations or adjustments.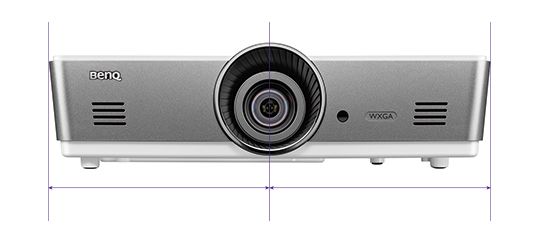 2D Keystone
2D keystone correction enhances installation flexibility by correcting the trapezoid effect via horizontal and vertical adjustments up to +-30 degrees. With it, the projector can be placed off center and the presenter can stand in front of the screen without blocking the image. The projector can also be placed anywhere on a u-shaped tabletop without moving the table or putting a stand in the center.

Corner Fit
Corner fit is a flexible and convenient way to align the picture perfectly by adjusting each corner of an image independently.

Image Quality
5000 ANSI Lumens
It doesn't matter how large or brightly lit the conference room, presentations are always clear and sharp with 5000 ANSI lumens high brightness. So take advantage and enjoy perfect lights-on presentations with audience interaction and note-taking.

Simulated Photo
High Contrast
The accrued expertise of BenQ's projector know-how and cutting-edge DLP technology delivers astounding contrast ratios to significantly improve black levels for superbly rendered image detail and superb readability in business presentations.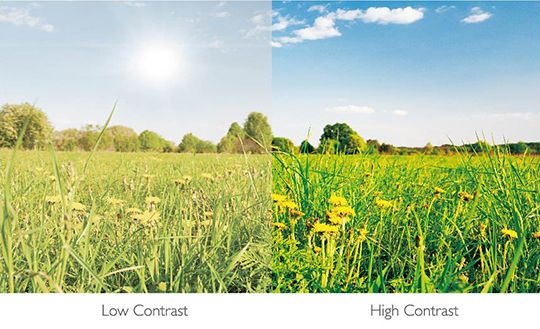 Simulated Photo
Ease of Operation
LAN Control
Designed to help IT managers perform day-to-day projector maintenance efficiently , LAN Control provides full access and control over networked projectors directly from IT workstations. The interface offers seamless support for Crestron, RoomView and PJ-Link LAN control systems. Upper Lamp Door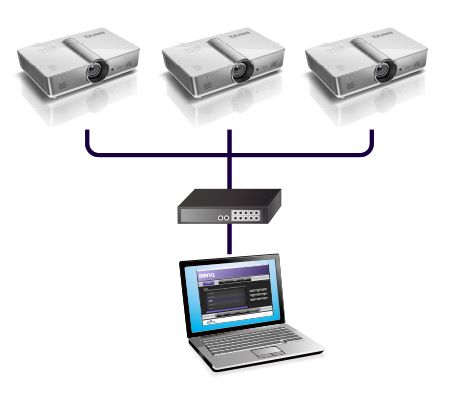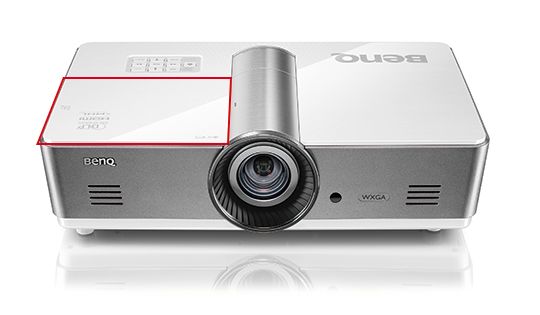 Upper Lamp Door
A quick-release lamp door offers easy lamp access without removing the projector from ceiling-mounted installations.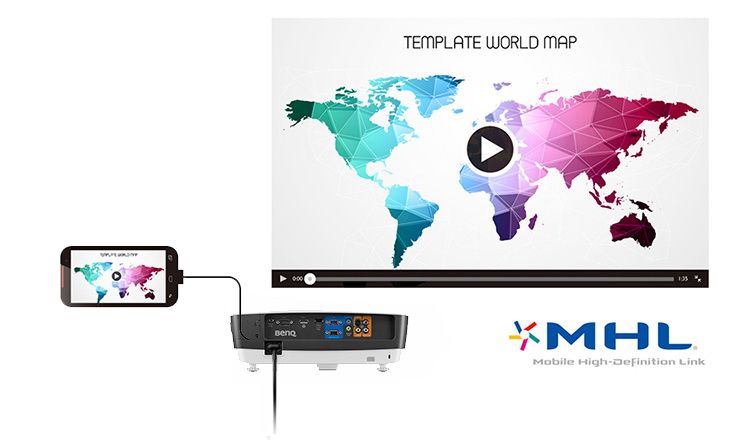 MHL Connectivity
MHL connectivity allows you to share your audiovisual content from mobile devices on the big screen through MHL cable or dongle. Also, your device or dongle is charged while you're projecting from it, so you don't have to worry about battery life while presenting.
Powered USB
The USB port supplies power for wireless dongles to provide uninterrupted viewing.
BenQ DLP® Projectors
Perfectly Long Lasting Picture Quality with DLP Projection Technology
Digital Light Processing (DLP), awarded 2015 Academy Award of Merit (Oscar® statuette), is the leading projection technology used in 90% of world's digital cinemas and 100% of IMAX theaters. With DLP dominating the worldwide projector market with over 50% share, BenQ is today the #1 bestselling DLP projector brand, delivering unmatched world-class performance.
Accurate
BenQ DLP Projectors produce the most intensely realistic colors and vivid images possible. By combining pioneering BenQ innovations such as interchangeable six-segment color wheels with DLP BrilliantColor™ Technology, our projectors accurately reproduce hard-to-match colors such as skin tones and precisely render Rec.709 and sRGB standards.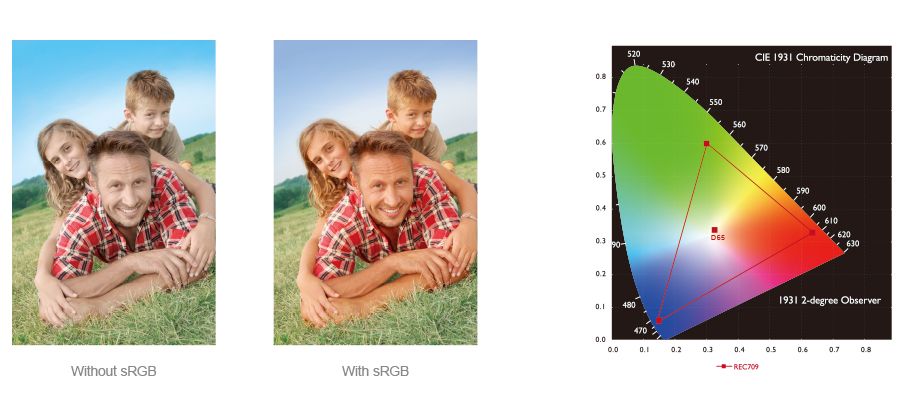 Long Lasting
The incredibly durable micro-mirrors of the DMD chip and the nearly-sealed DLP engine design mean that BenQ DLP Projectors stand the test of time without any loss in picture quality. Eliminating dust buildup and heat damage, BenQ projectors shine year after year and look as good as new with a simple lamp change.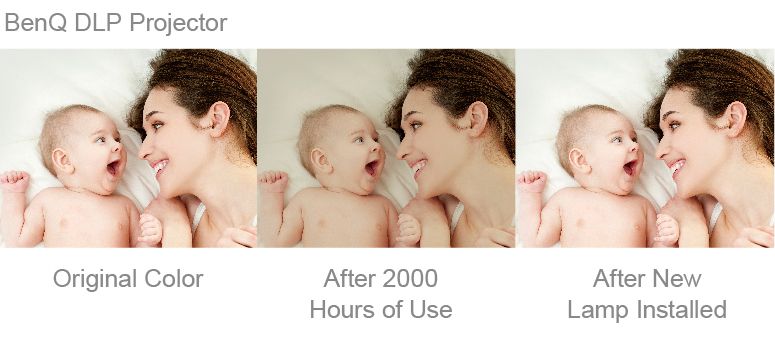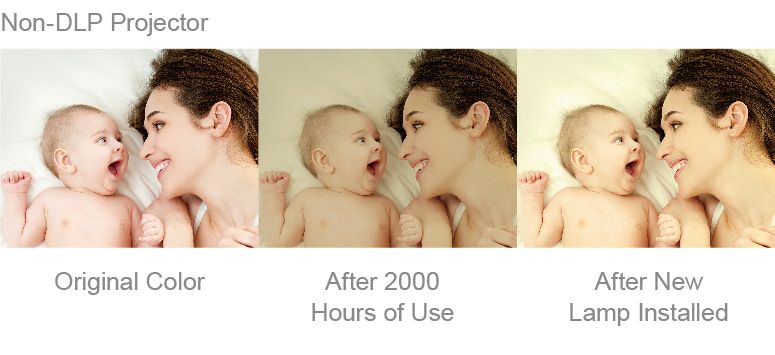 Razor-Sharp
Critically acclaimed for industry-leading high contrast, BenQ DLP Projectors also produce the most crisply defined sharpness for crystal-clear details and legible text by maximizing the fill ratio of individual pixels and employing exclusive BenQ SmartEco™ Technology.