Cinema Color Reality for Exceptional Image Quality
Cinema Color Reality
A "Cinema Color Reality" picture performance awaits you! Empowered by BenQ's simulated REC. 709 gamut, BrilliantColor™ technology and 6X-speed 6-segment color wheel (RGBRGB), the W1080ST+ brings the truest and most captivating images to life with billions of colors!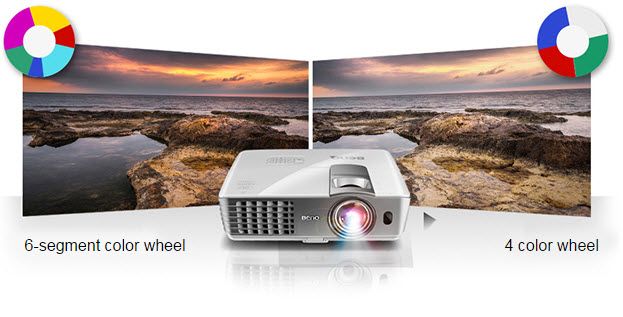 Full HD 1080p Perfection
With BenQ's Full HD optimized optical system, you can enjoy your favorite high-definition multimedia content with the best clarity and sharpness.

High ANSI Contrast
No detail should hide in the dark! With a high ANSI contrast ratio, even the subtlest details are revealed in the deepest, truest blacks.

‧ Full On/Off Contrast Ratio
measures and compares the brightness of full black and full white screens.

‧ ANSI Contrast Ratio
measures and compares the brightness of black and white segments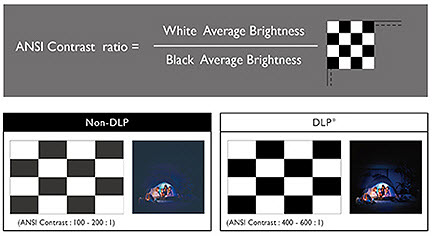 Full HD 3D Movies Right in Your Living Room
Love 3D cinema? So do we! That's why the W1080ST+ is built to support multiple 3D standards with amazing 1080p Full HD image quality, including HDMI 1.4a 3D, Blu-ray, 3D broadcast, video games, and NVIDIA 3DTV PC – all crosstalk free!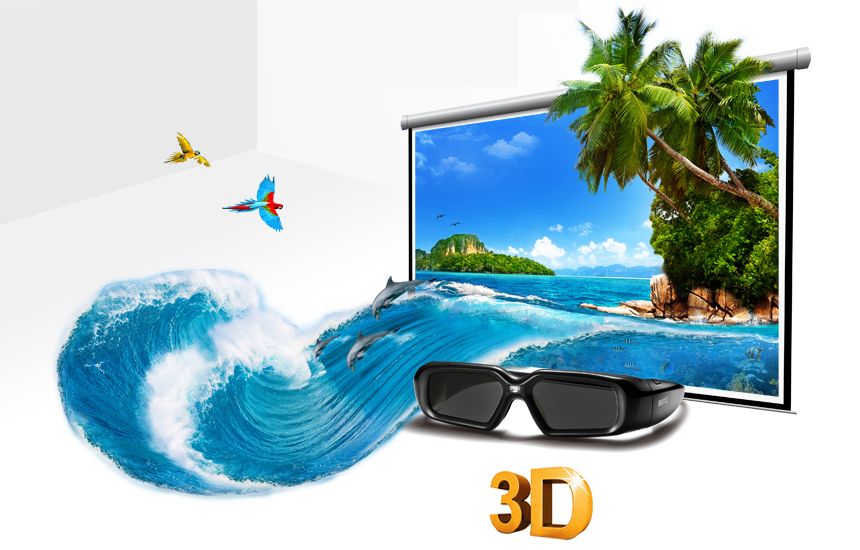 Dual HDMI Output
Stream digital content seamlessly from the device of your choice! Dual HDMI Output supports HDMI 1.4a, 3D, and MHL connectivity with a simple plug-and-play.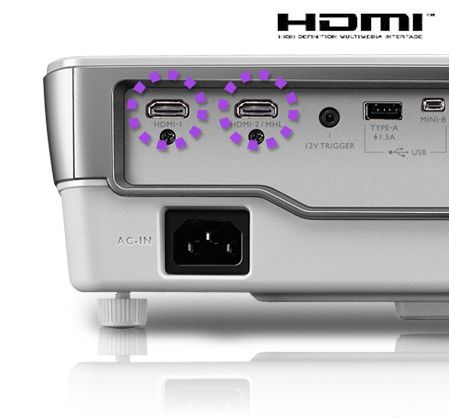 DarkChip3™ Superior Contrast Performance
With DarkChip3 DLP® Technology, the W1080ST+ projects higher brightness and deeper black levels to produce that smooth, film-like image quality you get in movie theaters.
10W Immersive Audio Performance
No Messy Cables, Only Wonderful Sound
Expertly tuned to enhance audio playback quality with deeper base tones, this built-in 10W chamber speaker offers you a truly immersive audio performance – without the cable trouble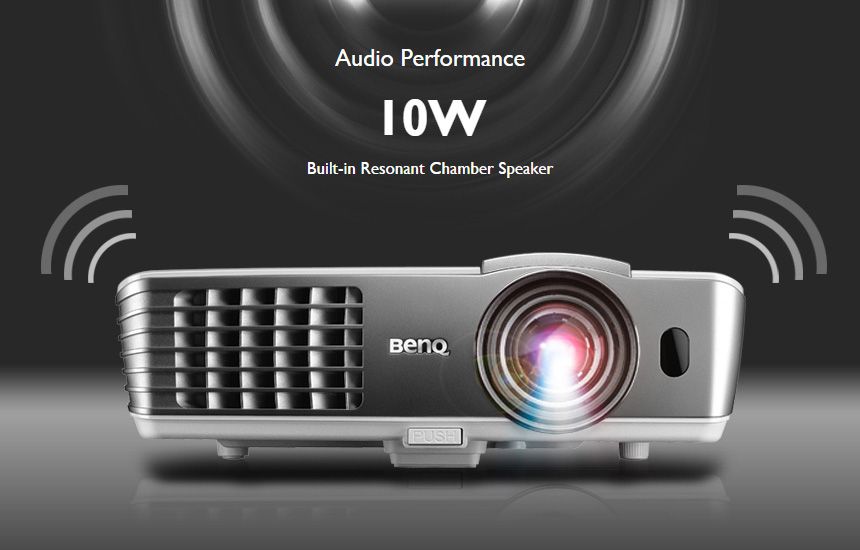 Projection Installation Flexibility
Leave your furniture as it is. Find a convenient spot for the W1080ST+ and start enjoying your favorite movie!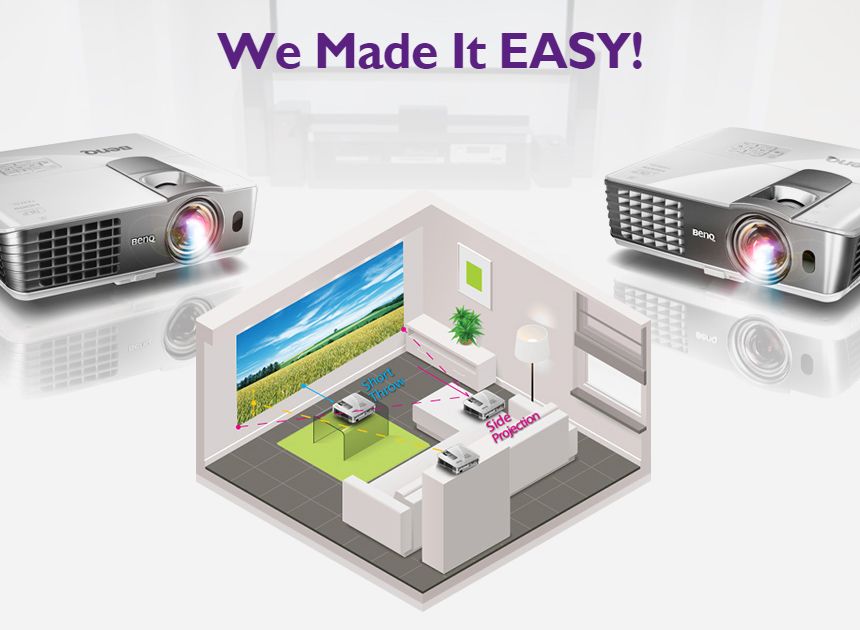 Side Projection
Thanks to 2D Keystone, you get front-and-centered projection even with the W1080ST+ placed on a side table! Almost any place is the perfect place for this projector!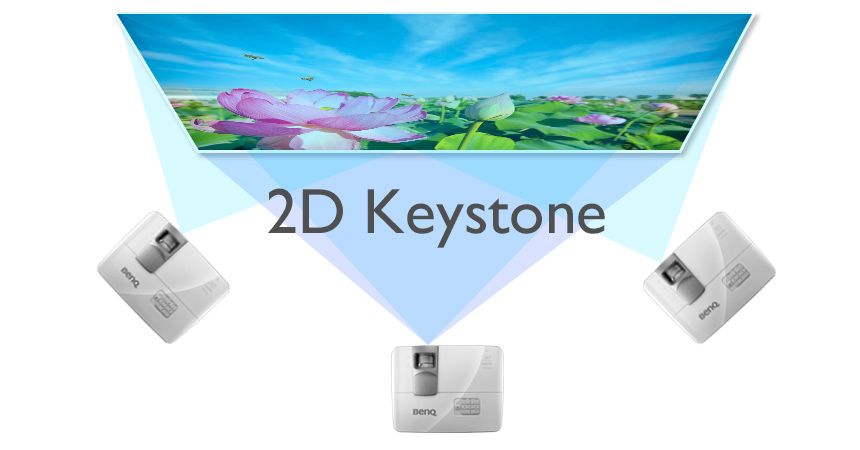 Big-Screen Entertainment in Short Distances
100" of Cinematic Enjoyment in 2.5m
With short-throw projection, the W1080ST+ frees you from space constraints, shadow distortions and glares – all the while giving you 100" of amazing cinematic entertainment in just 2.5 meters!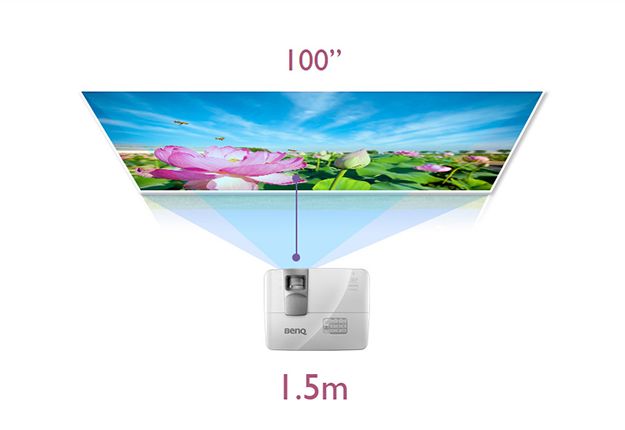 Flexible Zoom for Extra Installation Freedom
Say goodbye to changing your home décor to accommodate your projector! The W1080ST+ is built to free up your living space with a 1.2x flexible zoom that supports remodeling-free projector installation with a flexible range of projection distances.

Easy and Simple Operation
Plug in Your Favorite Device & Enjoy More with MHL
Go from small mobile screens to big projection screen with MHL! Stream and share your favorite digital content, from movies, videos, games to websites, seamlessly from any MHL-equipped smart device using just an MHL cable!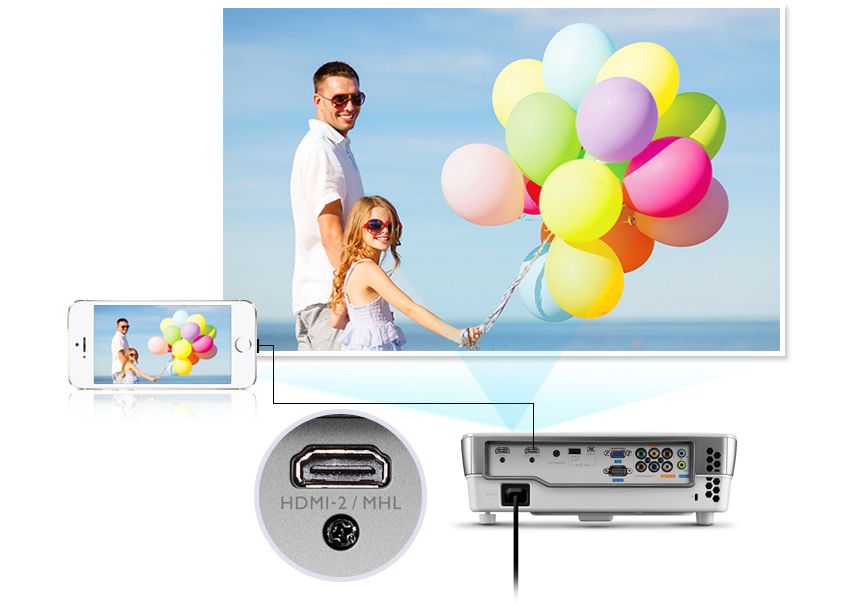 MHL Support:
The W1080ST+ lets you share the fun with friends and family with a simple plug and play.
Smart & Friendly User Interface
The W1080ST+ is incredibly intuitive to operate. The whole new self-explanatory user interface design has been made so simple that it's easy for anyone to figure out.