EASY, FUN & INTERACTIVE
A classroom is a destination kids should look forward to. With that in mind, BenQ Education Projectors empower kids to lead the way and we all learn through the teaching process.
High Brightness and Excellent Image Quality
 
High Brightness
With a high brightness of 3,300 ANSI lumens, the projector can deliver clearer and sharper images and text even in large-sized classrooms with some ambient light.
Bringing Teachers and Students Closer
By expanding our education projector lineup to include a comprehensive selection of ultra short throw ranges – as short as 8cm for an 87″ screen – BenQ facilitates uninterrupted up-close instruction.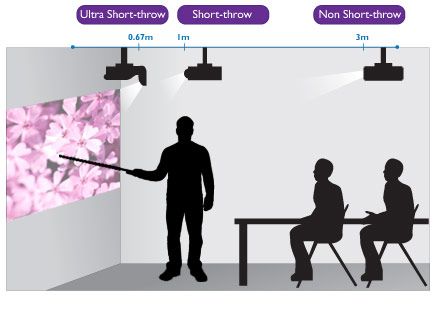 Zero Space Constraints
Place ultra short throw projectors as close as 8cm from the screen so teachers can walk freely in front of the board without blocking the projection, creating fewer distractions from learning.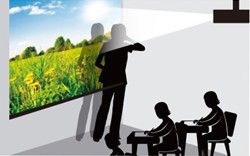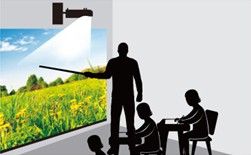 Image Uniformity Enhancement
Total Inner Reflection (TIR) optical architecture corrects uneven brightness, a common byproduct of short throw projection, greatly improving BenQ MW883UST image quality.

Benefits of PointWrite™ Interactivity
With BenQ PointWrite™ interactive projectors and QWrite software, students can take the lead in classrooms like never before. Bringing a new level of simplicity, ease and control to digital interaction solutions, BenQ projectors support flipped learning and true student engagement.
Write on Flat Surface
PointWrite™ works on flat surface – even on a desk – for multiple students to easily share and write on the same screen.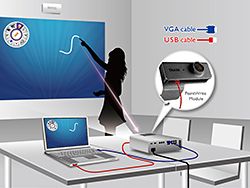 Easy Setup
The first time you assemble PointWrite™ and plug it in, auto calibration prepares your interactive teaching session and will always be ready when it's plugged in.
*Compatible operating systems: Win10 / Mac / Linux
MultiTouch & MultiScreen Drawing
PointWrite™ projectors support up to four people writing together and up to two projectors together for making notes in QWrite whiteboard mode and increasing productivity.
Windows Gesture Support
Zoom in and out or scroll with intuitive gestures while browsing webpages, pictures or Google Maps. Multi-touch commands and gestures also work for Windows 10 and forthcoming apps.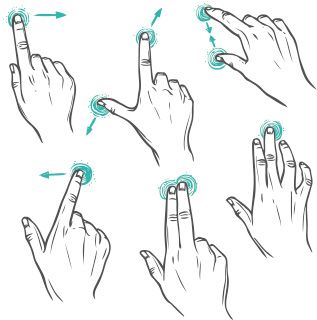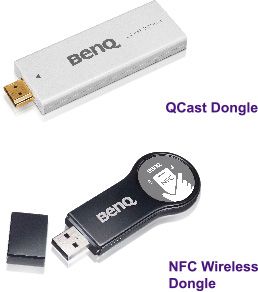 Connect the Way You Want – Without Wires
Connect a classroom PC, notebook or mobile device to a projector for high-definition video via Wi-Fi, eliminating messy cables with the use of a wireless dongle.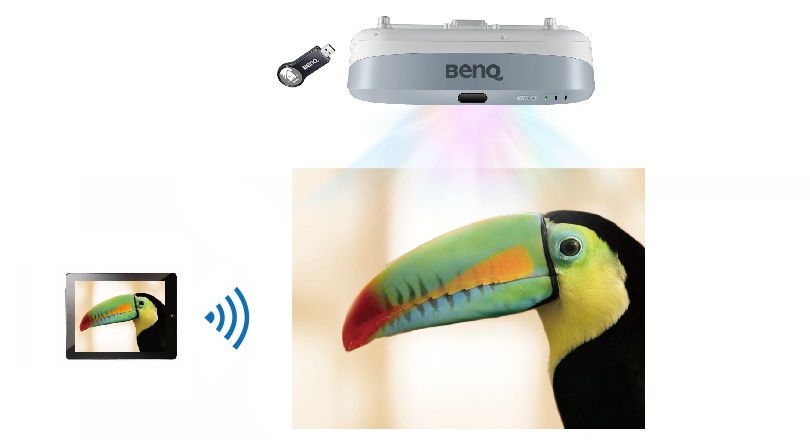 Perfectly Aligned Images
Corner Fit Correction
When mounting location and angle make it difficult to fit each corner perfectly into the frame, Corner Fit makes life easy by adjusting each corner independently.
 
 Surface Fit Correction
Featured in select BenQ Education Projectors, Surface Fit supports projection on non-standard surfaces, such as concave or convex contours, expanding projection possibilities.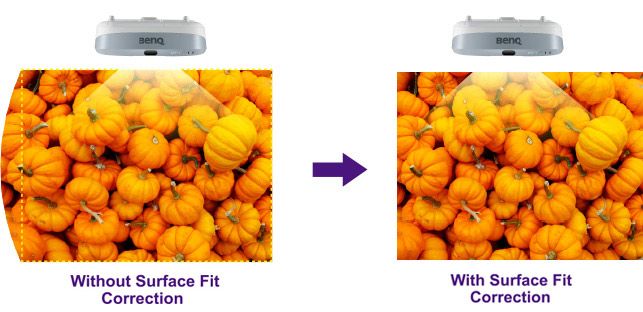 Remote Control Hotkey
Press the "Quick Install" hotkey on the remote control to setup the projector. This is a great time saver for managers performing initial projector installation work.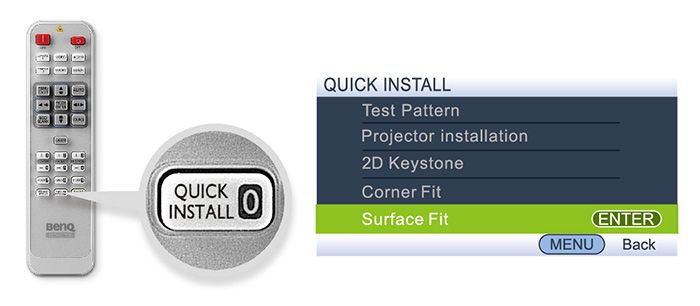 ---
Centralized Broadcast
The LAN display function can broadcast synchronized content on up to 255 projectors at the same time from the IT station, a perfect solution for shared programming and common instruction.
Centralized Maintenance via LAN Upgrade
IT managers can upgrade all of the projectors on the network simultaneously via LAN, ensuring that the latest firmware is updated on each device.
BenQ Eco Cycle System and SmartEco™ Mode
To balance classroom technology needs with rising energy costs, BenQ partnered with leading educational institutions to create the Eco Cycle System and SmartEco™ Mode.
When the projector is in use, SmartEco™ Mode detects input content to determine the brightness required for optimum color and contrast performance, conserving up to 70% lamp power while delivering the finest image quality without compromise.
On the other hand, the Eco Cycle System effectively eliminates electricity waste, reduces power-up wait time before and after class, and even minimizes projector maintenance.

* SmartEco™ Mode, the dynamic power saving mode, can save at least 70% power based on the projection content level.
BenQ DLP® Projectors Perfectly Long Lasting Picture Quality with DLP Projection Technology
Digital Light Processing (DLP), awarded 2015 Academy Award of Merit (Oscar® statuette), is the leading projection technology used in 90% of world's digital cinemas and 100% of IMAX theaters. With DLP dominating the worldwide projector market with over 50% share, BenQ is today the #1 bestselling DLP projector brand, delivering unmatched world-class performance.
Long Lasting
The incredibly durable micro-mirrors of the DLP chip and the nearly-sealed DLP engine design mean that BenQ DLP Projectors stand the test of time without any loss in picture quality. Eliminating dust buildup and heat damage, BenQ projectors shine year after year and look as good as new with a simple lamp change.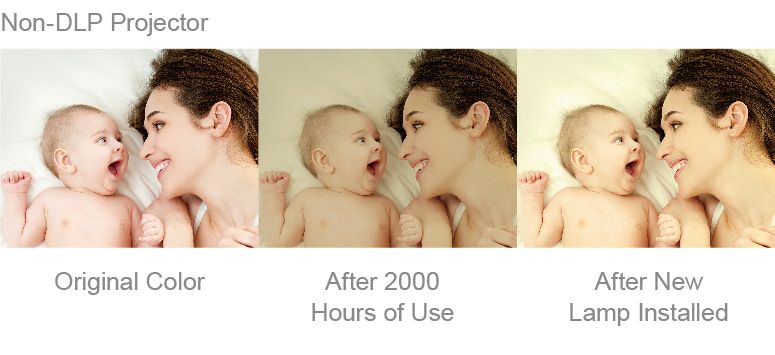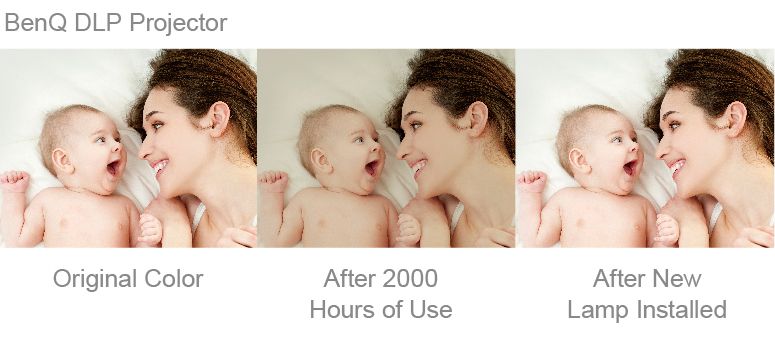 Razor-Sharp
Critically acclaimed for industry-leading high contrast, BenQ DLP Projectors also produce the most crisply defined sharpness for crystal-clear details and legible text by maximizing the fill ratio of individual pixels and employing exclusive BenQ SmartEco™ Technology.