Amazing Big Picture in Ultra Short Distance
With an ultra short-throw projector, teachers can captivate students' attention in class with a stunning 100" large projection image in a mere distance of 0.43 meters*.
*The projection distance of a mirror-type projector is calculated from the screen to the back of the projector.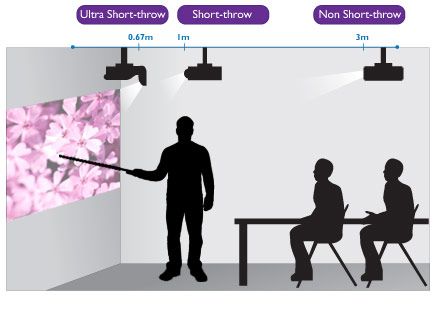 Brilliant Image Performance
Spectacular Full HD 1080P Picture Performance
BenQ offers varies resolution of Ultra throw model to complete education solution in school.The full HD Ultra short throw projector can offer classroom a crisp, clear and accurate Full HD image quality. With MH856UST teachers can intrigue their class with full, magnificently colored multimedia contents in every lesson.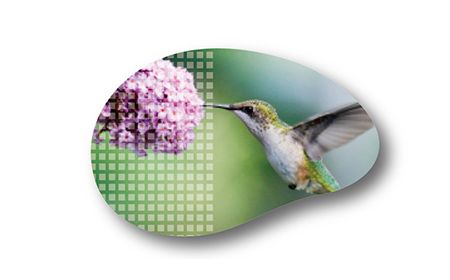 ‧Non Full HD Picture Low Image Resolution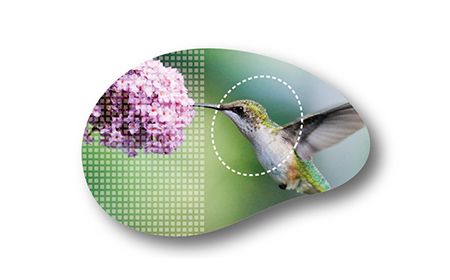 ‧Full HD 1080P Picture Delicate Image Resolution
The Innovation of BenQ Interactive solution
Interactive Learning with BenQ's Leading Technology
Foster Active Learning Through PointWrite Interactivity and Classroom Collaboration
Keeping students involved and engaged is a central practice in the BenQ Smart Classroom concept- simply integrating MH856UST with latest PointWrite™ technology is a great way to let multiple students contribute at once. BenQ brings interactive innovation and touch solutions to a new level of simplicity, ease and control, supporting flipped learning and engaging students like never before. Teachers now can turn any space into an interactive whiteboard and get up to 4 students to collaborate simutaneously with PointWrite™ pens or simply with fingers.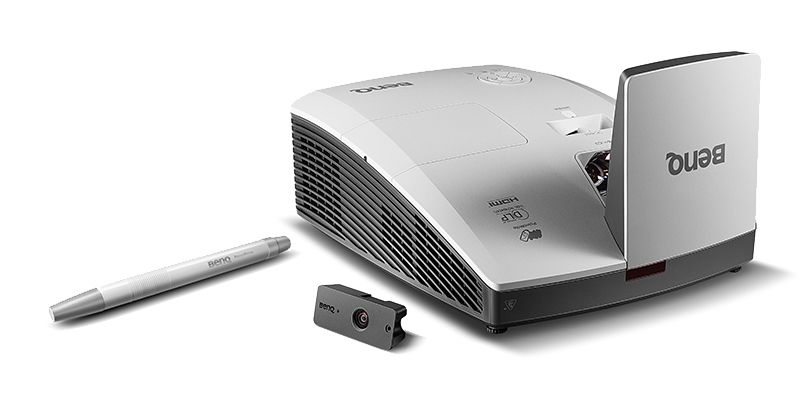 Dual Screen with Multiple Touch Capabilities
BenQ Dual Screen feature allows teachers to create an immersive learning experienced by connecting two PointWrite interactive projectors to project two seamlessly merged screens. This creates a super-sized space for learning the solar system, virtual field trip around the world, or simply a great big canvas for co-creation.
PointWrite Features:
‧ Supports up to 4 pens/ fingers
‧ Effortless setup with only 1 second auto calibration*
‧ An ultra-fast 0.016-second response time for a smooth   writing experience
‧ Win8 native multi touch and gesture supported
*Calibration speed may vary depending on computer system.
**The function is available with optional PointWrite Kit.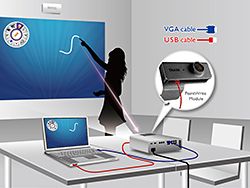 Friendly and Easy Installation Solutions
Corner Fit Correction
Corner Fit is the go-to feature for when the projector is used to project on restricted or uneven space, such as within a certain frame. It is a flexible and convenient way to correct each distorted corner to get a perfect rectangular image.

Wall Mount Alignment System
Designed to help ensure a fail-proof projector installation, BenQ has implemented extra help into its wall mount design. This installer-friendly ultra short-throw projector wall mount features an installation chart and a measuring ruler to help you find the most suitable projector-screen alignment and image position for your classroom.
1. Slide in the projector to connect with the wall mount.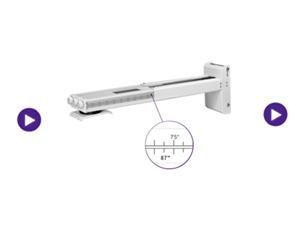 2. Check the measuring ruler for the desired projection image size and adjust
3. Make minor adjustments to the image.
MHL Connectivity
With the support of MHL technology, teachers and students can share photos, videos, websites and even games from their Android smartphone or tablet instantly. Simply connect the smart device to a classroom projector via a MHL cable and watch the flawless mirroring of contents expanded onto the projector screen.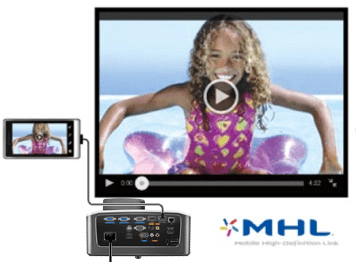 Power Saving , Eco Friendly
Saving More on Power Consumption with BenQ's SmartEco™ Technology
Offering lower TCO and optimized projection through dynamic power saving, uncompromised brightness, exquisite picture quality and optimized lamp life – SmartEco™ Technology has perfected what a DLP projector can do. With this innovation, schools and corporates are able to save up to 70% of lamp power consumption and lower maintenance costs through dynamic power saving features while bringing an ultra-vivid viewing experience into every presentation.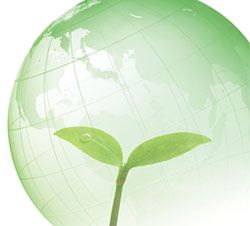 SmartEco Mode: Power Smarter
By detecting the input content to determine the amount of brightness required for optimum color and contrast performance, the SmartEco Mode is able to reduce lamp power while delivering the finest image quality. No compromise!

*SmartEco Mode, the dynamic power saving mode,can save at least 70% power based on the projection content level.
Eco Blank Mode
The Eco Blank Mode, which lowers power consumption up to 70%, can be used to blank the projection screen when the projector is not in use, in turn eliminating distractions in class and redirecting students' focuses back on the teacher.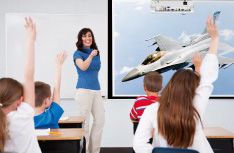 Eco Blank Mode On 30% Lamp Power at the Lowest Attention on the Class Instructor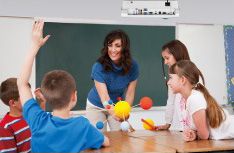 Eco Blank Mode On 30% Lamp Power at the Lowest Attention on the Class Instructor
No Source Detected Mode
The No Source Detected Mode, which can be set to enter the Eco Blank Mode after three minutes of inactivity or to the Auto Power Off Mode after no display source has been detected for over 30 minutes, can keep the projector from running with full lighting power.
Source Detected 100% Lamp Power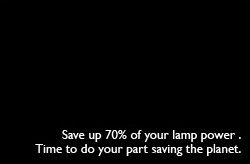 No Source Detected 30% Lamp Power
BenQ DLP® Projectors︱ Long-Lasting Image Perfection with DLP Technology
Timeless Image Quality:
BenQ DLP Projectors are built with enduring enjoyment in mind, ensuring razor-sharp clarity, ultra-readability and true-to-life color for years to come. We use leading-edge DLP Technology to reflect pure light from millions of micro mirrors on a DMD chip through our advanced color wheels. Since the mirrors are colorless and protected within a nearly-sealed engine, BenQ DLP Projectors have no aging problems and are virtually immune to image decay, consistently delivering picture excellence time and time again. In fact, after 2,000 hours of intense usage, inserting a new bulb produces image quality comparable to a brand-new projector.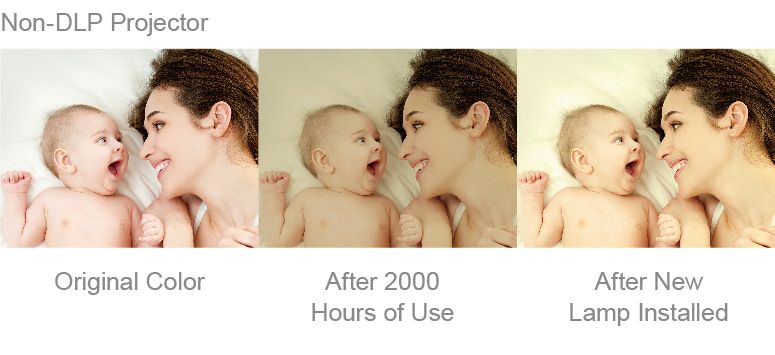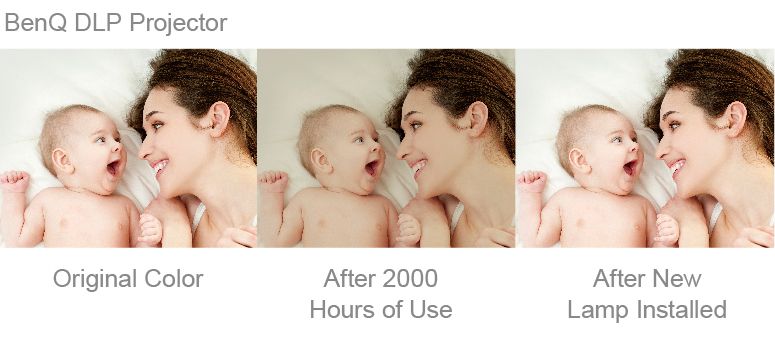 DLP Technology also affords a filter-free engine design for carefree confidence in long-lasting image quality and reduced total cost of ownership. BenQ's SmartEco™ Technology further boosts contrast performance and image quality endurance while saving up to 70% on lamp power consumption.
Razor-Sharp Clarity with Ultra-Readability
Enabling a 96% fill factor, DLP Technology supplies pixel circuitry behind the pixel, thereby eliminating the thick dark bezels around individual pixels, which diminish color and detail. A higher fill factor and less black border translate to noticeably purer, more intense color and smoother image quality.
BenQ DLP Projectors also feature high contrast ratios for flawless rendering of small text, fine lines, and dark scene details. Blacks are deeper and overall image quality is more focused and clean. Your presentations will be easily readable and highly effective, even from the back row of a well-lit venue.

Vibrant, True-to-Life Colors
Even in lit venues, BenQ DLP Projectors achieve the optimal balance of brightness and color accuracy, with BrilliantColor™ Technology additionally boosting true-to-life colors that captivate. BrilliantColor enables up to six-color processing by incorporating the secondary colors Yellow, Cyan, and Magenta along with primary Red, Blue, and Green. From intense hues to elusive mid-tones like aqua blues and light yellows, your every presentation is rendered in pure, living splendor.

(All photos portraying projection scenarios are simulated.)
ecoFACTS Label
ecoFACTS can tell you how eco-friendly BenQ products are!
Development of eco-friendly products, BenQ doesn't just want to comply with green regulations passively, but also to actively develop eco-friendly products!
ecoFACTS declares BenQ's greatest efforts on the replacement of hazardous substances, material selection, packaging design, energy-saving design and other aspects of the products.