Enhance visual communication for increased productivity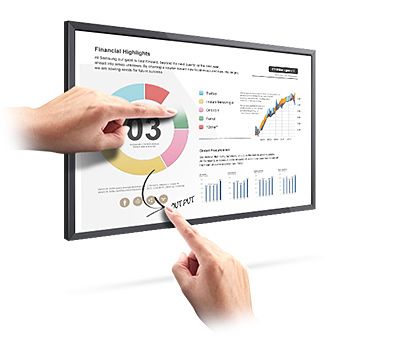 EDD series 65" and 75" displays come with an optional, easy-to-install Touch Overlay accessory that enriches the user experience and elevates your brand in any environment. Improved IR touch technology using vertical and horizontal sensing ensures every inch of the screen provides a realistic multi-touch experience. The durable 3.2mm thick overlay protects your display from countless sources of damage including dust to assure long-lasting performance.
Increase content possibilities with external content drives and the optional Samsung PIM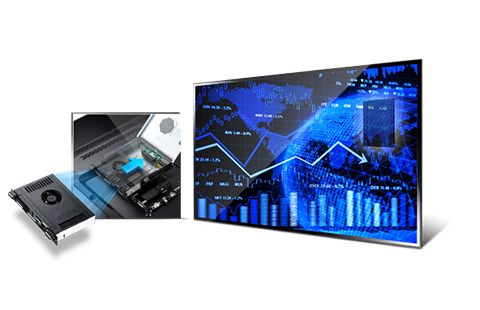 EDD Series displays are designed to use content from various external sources, including PCs, external hard drives and USB drives, with an optional PIM. Samsung PIMs use Intel® Open Pluggable Specification (OPS) connectivity to enable power and video source delivery through a single cable. No additional power cord is necessary. With the optional PIM installed, external clutter is reduced so that the slim design of EDD Series displays is retained.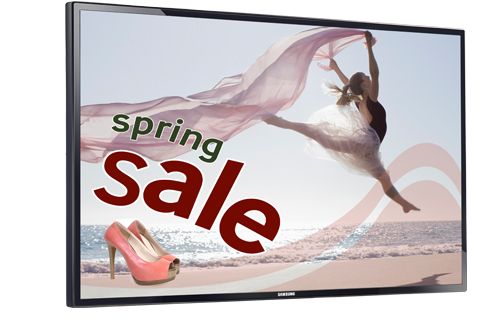 Captivate your audience with an immersive viewing experience
Entice your audience with crisp, clear FHD images and realistic color on a sleek display with Samsung d-LED technology. A sleek, lightweight design and slim bezels keep your audience focus on your message, helping you capture more business opportunities. The accompanied pivot function gives you the flexibility to display your message vertically or horizontally for the optimal view.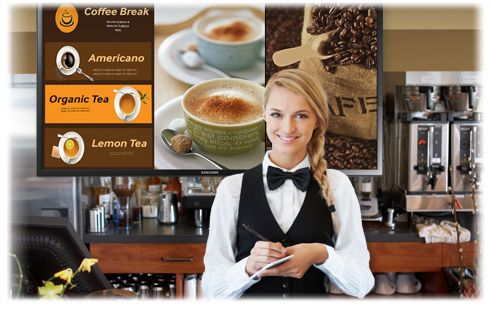 Affordable startup cost and economical operation
Enjoy all the essential functions of digital signage with affordably priced and energy-efficient Samsung EDD Series. With the slim, light weight design, the displays are easy and economical to install, helping to reduce startup cost. Because EDD Series displays require less energy, emit less heat and are durable, they can also help lower your total cost of ownership (TCO).
Opt for Samsung EDD LFDs—the smart choice for your business
Samsung EDD Series displays are perfectly suited to various business environments and demands, with clear advantages:
• Higher reliability. LFDs are required to undergo stricter, more rigorous quality assurance testing under various environmental conditions. Stringent testing includes lifecycle, dust testing and power surges.
• Optimized display connectivity. LFDs offer RS-232C connection that provides you with a simple way to link multiple displays for access to broader range of digital content. The accompanied multiple display control (MDC) program gives you easy control of all connected displays and content from one central location through the RS-232C connection. You can even merge the MDC protocol into your existing technology.

Connectivity
Connect the display to other digital signage easily with interfaces based on your specific needs. The displays provide not only the essential connections businesses use the most but support for a wide range of source device types. Interfaces include HDMI, DVI, D-sub, Component and Composite input as well as RS-232C for extensive connectivity.

Sustainable design
"Samsung digital displays emit less heat and carbon dioxide, use less energy, and are mercury- and lead-free. The eco-friendly design helps reduce your company's environmental footprint.
"