Samsung EDD Series displays
High-definition displays in a variety of sizes and connection types for an immersive viewing experience
Highlights
Minimize acquisition and operational costs through simplified installation and maintenance due to embedded components
Connect to a variety of sources including: D-subminiature (D-sub), High-Definition Multimedia Interface® (HDMI®), Digital Visual Interface (DVI) and Component (CVBS Common)
Increase space efficiency and easily create an uncluttered viewing environment through the half-embedded PIM*
Enhance the effectiveness of information by delivering interactive content on a touch screen*
Engage viewers with crisp imagery and flexible signage tools
Mainstream and market segment businesses want to deliver distinctive messaging without distractions to viewers through high-quality digital signage. These businesses are also looking for ways to reduce startup and operating costs while lowering total cost of operation. In addition, companies want the flexibility to customize content to suit individual needs. IT managers seek a selection of display sizes and a simplified way to manage multiple displays with a range of connectivity choices. Companies also want to increase the effectiveness of information delivery by presenting interactive content on a touch screen.
Samsung EDD Series displays provide high-quality imagery and low power consumption for reduced operating costs. The ability to connect to a variety of input source devices including D-Sub, HDMI, Component (CVBS Common) and DVI offers superior flexibility.
The displays' slim, lightweight design and half-embedded PIM* enable space efficiency and economical installation for reduced startup costs. Ultra Clear Panel and thin bezels enhance the viewer experience. EDD Series displays also offer an optional interactive touch sceen* to enhance content delivery. The displays are available in a variety of sizes from 32 in. to 75 in. to suit a broad range of display needs.
Captivate audiences with large-scale, attention-getting pictures and highly legible text
With Samsung LED BLU technology, EDD Series displays deliver superior picture quality, realistic color and richer black hues. Ultra Clear Panel enhances readability with sharper, more detailed images and crisper text with reduced light scatter and reflection. The LED BLU technology also enables a slim, easy-to-handle design with weights ranging from as little as 6 kg (13.23 lb.) to a maximum of only 28.8 kg (63. 48 lb.).
EDD Series displays support installation in both landscape and portrait modes, which allows optimal placement flexibility. An ultra-slim bezel design offers an aesthetic look and enables the viewer to focus on the message rather than the device delivering it.
*Available in 65-in. and 75-in. models only.
Gain flexibility with expanded connectivity options and discover advantages over conventional televisions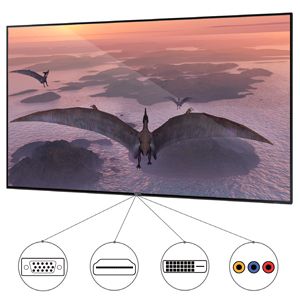 Choose from an expansive range of connectivity options for an even greater variety of source devices
The improved connectivity interface includes: D-sub, HDMI, DVI and Component (CVBS Common) to support any type of source input device. These optimized interfaces provide users with a simplified way to connect the EDD Series displays to the digital signage network based on individual needs. The DVI and Component (CVBS Common) connectors, which are major new enhancements of the EDD Series displays, offer increased connection flexibility when compared to the predecessor, Samsung EDC Series displays.
EDD Series displays offer upgraded connectivity with access to digital content through an RS-232C connection. Access to a broader range of digital content provides a more engaging viewer experience. Users can connect to PCs and other compatible devices to display the content that is most relevant to an audience.
Discover the advantages of EDD LFDs over television
EDD Series displays are ideal for businesses that have basic digital signage needs or already have a digital signage infrastructure and only need displays. In addition, implementing Samsung LED BLU displays have significant advantages versus using TVs.
High reliability
The quality assurance test standards are stricter for digital signage than for TVs. LFDs are rigorously tested under various yet harsher environmental conditions than TVs, such as accelerated lifetime (ALT), longtime lifecycle, dust testing, and power on and off surge simulation.
Landscape or portrait display installation options
EDD Series displays are capable of being installed in landscape or portrait position. The displays are designed and engineered to operate unaffected of its installation position. This allows greater flexibility far beyond the capabilities of conventional TVs.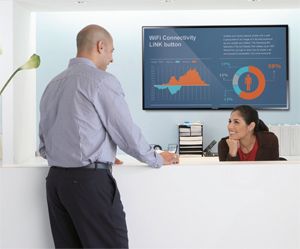 Samsung EDD Series displays use LED BLU technology, and deliver extraordinary picture quality and sharp text for superb readability
Provide engaging, interactive content delivery with an optional Touch Overlay
Create an efficient, streamlined viewing environment with the half-embedded PIM
Businesses can increase space efficiency and easily create an uncluttered viewing environment with the half-embedded PIM (available in 65-in. and 75-in. models only). The optional slim PC offers several benefits:
No additional power cord is required. The PIM or other compatible devices can connect directly to the display without the need for cables.
Because the PIM follows the OPS standard, it provides compatibility options for various vendors. This capability enables devices from other vendors that support OPS to be connected to the LFD.
Provide an immersive, interactive experience while protecting the display surface
An optional Touch Overlay (available in 65-in. and 75in. models only) increases content delivery effectiveness by adding interactivity. Ideal for Retail, Transportation, Office, Exhibition and Educational environments, the optional Touch Overlay provides a realistic multitouch experience with up to six enabled simultaneous touch points. Unlike traditional infrared (IR) sensors that use vertical and horizontal sensing, the arc-like IR covers every corner of the surface, eliminating any dead spots.
The accessory is easily installed by simply placing the overlay on the LFD screen and tightening a few screws. The optional Touch Overlay accessory also protects the LFD, with its 2.8 mm (0.11 in.) thickness that prevents damage from external elements such as dust.
Select the optimal LFD from a variety of sizes
Businesses can choose the best-suited LFD for their display needs from a broad range of product sizes (from 32 in. to 75 in.). For example:
Small SMB stores with limited space can opt for a small, economical 32-in. displays and still reap the benefits of dynamic digital signage.
High-end fashion retail shops can opt for 65 in.-75 in. displays to deliver more impactful messages and life-size model images to showcase products.
Features and benefits
Narrow bezel, lightweight, Full HDDelivers distraction-free messaging with sharp, high-resolution images and text, reduced light scatter and reflection, a thin profile and narrow bezels
Improved connectivityEnables access to a broad range of digital content
Optional slim PC (half embedded PIM)Increases space efficiency and enables users to easily create an uncluttered viewing environment (65-in. and 75-in. models only)
Touch Overlay optionEnhances the effectiveness of information by delivering interactive content on a touchscreen (65-in. and 75-in. models only)
Samsung EDD Series displays offer greater connectivity options and a wide selection of sizes to create an enhanced viewing experience for any display environment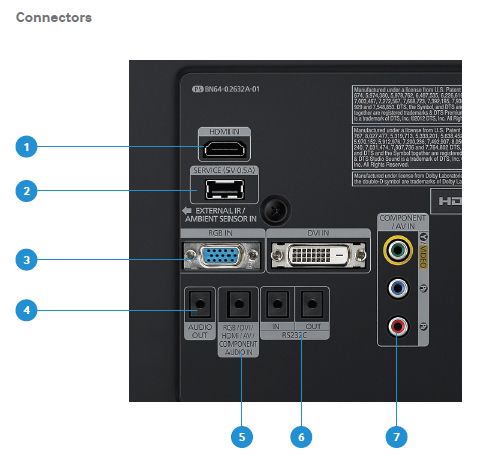 HDMI IN
SERVICE (5V 0.5A)
RGB IN
AUDIO OUT
RGB / HDMI AUDIO IN
RS232C (IN / OUT)
COMPONENT / AV IN