Saving More on Power Consumption with BenQ's SmartEco™ Technology
Offering lower TCO and optimized projection through dynamic power saving, uncompromised brightness, exquisite picture quality and optimized lamp life-SmartEcoTechnology has perfected what a DLP projector can do. With this innovation, schools and corporates are able to save up to 70% of lamp power consumption and lower maintenance costs through dynamic power saving features while bringing an ultra-vivid viewing experience into every presentation.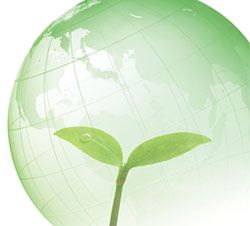 SmartEco Mode: Power Smarter
By detecting the input content to determine the amount of brightness required for optimum color and contrast performance, the SmartEco Mode is able to reduce lamp power while delivering the finest image quality. No compromise!

*SmartEco Mode, the dynamic power saving mode,can save at least 70% power based on the projection content level.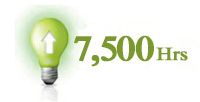 LampSave Mode
Projector lamp replacement costs make up the biggest part of the total cost of projector ownership. The LampSave Mode is designed to adjust the lamp power dynamically by content brightness level to extend projector lamp life significantly by 60%! The lamp replacement frequency is also reduced by up to 60% to lower the replacement costs.
Eco Blank Mode
The Eco Blank mode allows teachers to blank the projection screen whenever they need to direct their students' focus back on them – or simply when the projector is not in use. When activated, this special feature dims the lamp power automatically, lowering the total power consumption by 70%.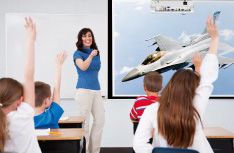 Full Power On
100% Lamp Power
Attention on the Projection Screen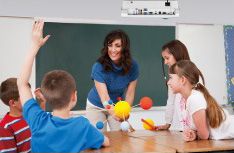 Eco Blank Mode On
30% Lamp Power at the Lowest
Attention on the Class Instructor
No Source Detected Mode
The automatic switch to Eco Blank Mode after the projector is turned on for over three minutes without a display source, eliminating unnecessary energy waste and prolonging the life of the projector lamp.
Source Detected
100% Lamp Power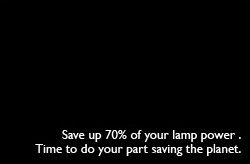 No Source Detected
30% Lamp Power
Good Things Come in Short Distance
Zero Eye-Blinding Lights
The short-throw projection distance keeps the projector light from shining directly into your eyes, allowing you to keep your focus on your audience.
Zero Disruptions
Say goodbye to the shadows that often interrupt your presentation. With a projection distance this close, you and your audience can move freely without worrying about obstructions between the projector and the screen!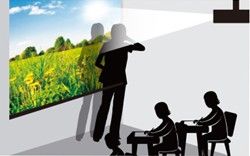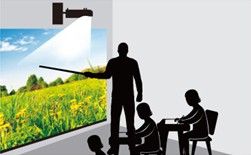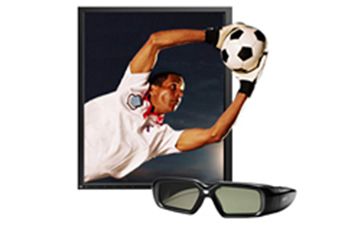 Blu-ray Full HD 3D Supported
BenQ DX832UST is built with latest DLP® technology to support 3D functionality, allowing schools to bring an immersive learning experience to their students with a simple preparation of 3D glasses and 3D content from your blu-ray player.
Hassle-Free Projector Maintenance
Dustproof Filter to Maximize Operating Life
Well-equipped with a dustproof filter, DX832UST requires less maintenance and cleaning, greatly extending operating life in environments with poor air quality.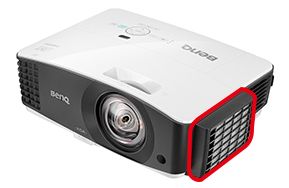 Upper Lamp Door for Easy Lamp Access
The upper lamp door is designed for it managers to replace the projector lamp safely and quickly. should the projector lamp go out in the middle of the class, it can be replaced without delaying the class.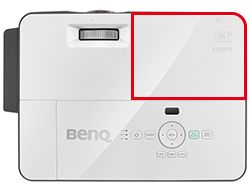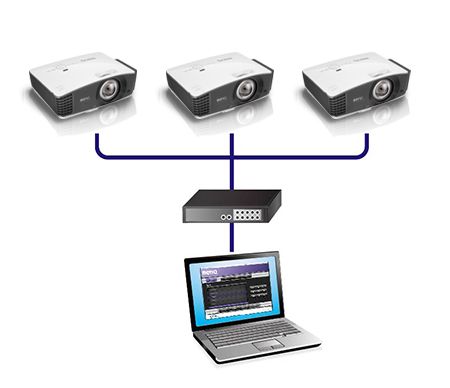 LAN Control
Designed to help IT managers perform day-to-day projector maintenance efficiently , LAN Control provides full access and control over networked projectors directly from IT workstations. The interface offers seamless support for Crestron, RoomView and PJ-Link LAN control systems.
BenQ DLP® Projectors Perfectly Long Lasting Picture Quality with DLP Projection Technology
Digital Light Processing (DLP), awarded 2015 Academy Award of Merit (Oscar® statuette), is the leading projection technology used in 90% of world's digital cinemas and 100% of IMAX theaters. With DLP dominating the worldwide projector market with over 50% share, BenQ is today the #1 bestselling DLP projector brand, delivering unmatched world-class performance.
Long Lasting
The incredibly durable micro-mirrors of the DLP chip and the nearly-sealed DLP engine design mean that BenQ DLP Projectors stand the test of time without any loss in picture quality. Eliminating dust buildup and heat damage, BenQ projectors shine year after year and look as good as new with a simple lamp change.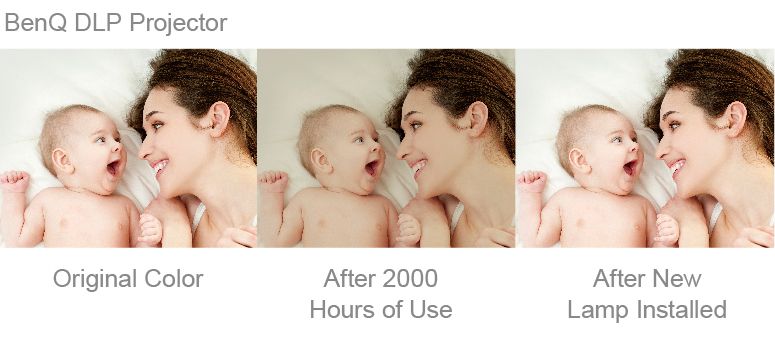 Razor-Sharp
Critically acclaimed for industry-leading high contrast, BenQ DLP Projectors also produce the most crisply defined sharpness for crystal-clear details and legible text by maximizing the fill ratio of individual pixels and employing exclusive BenQ SmartEco™ Technology.
ecoFACTS Label
ecoFACTS can tell you how eco-friendly BenQ products are! Development of eco-friendly products, BenQ doesn't just want to comply with green regulations passively, but also to actively develop eco-friendly products! ecoFACTS declares BenQ's greatest efforts on the replacement of hazardous substances, material selection, packaging design, energy-saving design and other aspects of the products.