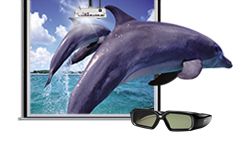 Blu-ray Full HD 3D Supported
BenQ W750 is built with latest DLP® technology to support 3D functionality, allowing you have 3D experience with a simple preparation of 3D glasses and blu-ray 3D content.
HDMI Connectivity
Enjoy endless home entertainment possibilities with the W750! This fabulous projector features a convenient HDMI interface to deliver ultra-smooth digital HD signal and sound via just one cable! It's the perfect choice for hosting movie or game nights!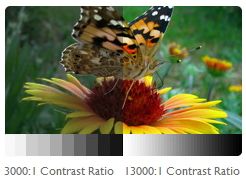 Ultra-High Contrast Ratio
An ultra-high contrast ratio projects sharp images, even for high brightness projectors. Get better contrast and blacker blacks with a 13000:1 contrast ratio.
 10W Microphone Audio Power
The W750 is built with 10W audio power to add to your home entertainment fun! All you have to do is connect the W750 to your DVD player, game console or PC to experience big-screen movie or gaming audiovisual enjoyment right at home!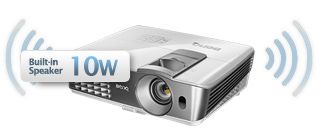 Saving More on Power Consumption with BenQ's SmartEco™ Technology
Offering lower TCO and optimized projection through dynamic power saving, uncompromised brightness, exquisite picture quality and optimized lamp life –SmartEcoTechnology has perfected what a DLP projector can do. With this innovation, schools and corporates are able to save up to 70% of lamp power consumption and lower maintenance costs through dynamic power saving features while bringing an ultra-vivid viewing experience into every presentation.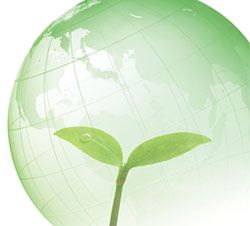 Smart Eco Mode
The SmartEco Mode, which cleverly adjusts the lamp power to maximize power saving by delivering the best contrast and brightness performance using only as much light as needed.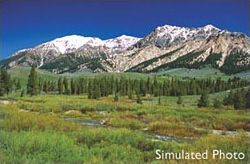 Normal Mode
296W Projector Power Consumption by Average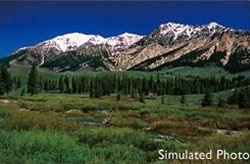 SmartEco Mode
Enhanced Details in Darkened Scenes
163W Projector Power Consumption by Average
                      (Source: Futuresource Consulting Ltd, 2010)
Eco Blank Mode
The Eco Blank mode allows teachers to blank the projection screen whenever they need to direct their students' focus back on them – or simply when the projector is not in use. When activated, this special feature dims the lamp power automatically, lowering the total power consumption by 70%.
No Source Detected Mode
The automatic switch to Eco Blank Mode after the projector is turned on for over three minutes without a display source, eliminating unnecessary energy waste and prolonging the life of the projector lamp.
Source Detected
100% Lamp Power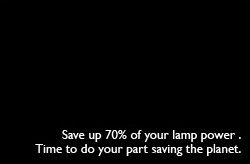 No Source Detected
30% Lamp Power
Free of Filter Maintenance and Replacement
With the DLP filter-free design, you get to save the cost and hassles of filter maintenance and replacement all together – and get better projection quality, too.

0.5W in Standby Mode
When inactive, the W750 complies with 2013 EU standards by keeping power consumption to a minimum using less than 0.5 W on standby, extending lamp life and reducing energy costs.
BenQ DLP®Projectors︱ Long-Lasting Image Perfection with DLP Technology
Timeless Image Quality
BenQ DLP Projectors are built with enduring enjoyment in mind, ensuring razor-sharp clarity, ultra-readability and true-to-life color for years to come. We use leading-edge DLP Technology to reflect pure light from millions of micro mirrors on a DMD chip through our advanced color wheels. Since the mirrors are colorless and protected within a nearly-sealed engine, BenQ DLP Projectors have no aging problems and are virtually immune to image decay, consistently delivering picture excellence time and time again. In fact, after 2,000 hours of intense usage, inserting a new bulb produces image quality comparable to a brand-new projector.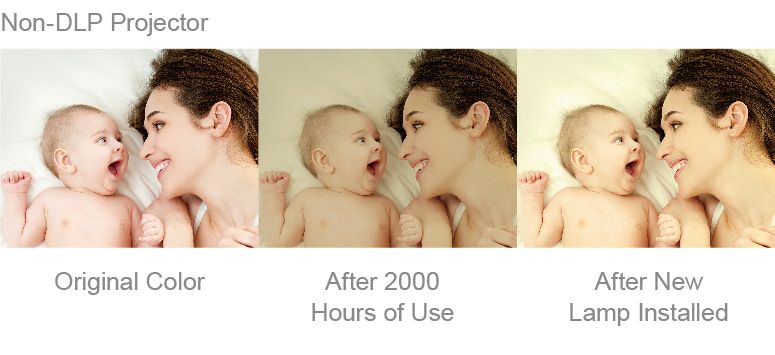 BenQ DLP Projector

DLP Technology also affords a filter-free engine design for carefree confidence in long-lasting image quality and reduced total cost of ownership. BenQ's SmartEco™ Technology further boosts contrast performance and image quality endurance while saving up to 70% on lamp power consumption.
Razor-Sharp Clarity with Ultra-Readability
Enabling a 96% fill factor, DLP Technology supplies pixel circuitry behind the pixel, thereby eliminating the thick dark bezels around individual pixels, which diminish color and detail. A higher fill factor and less black border translate to noticeably purer, more intense color and smoother image quality.
BenQ DLP Projectors also feature high contrast ratios for flawless rendering of small text, fine lines, and dark scene details. Blacks are deeper and overall image quality is more focused and clean. Your presentations will be easily readable and highly effective, even from the back row of a well-lit venue.

                (All photos portraying projection scenarios are simulated.)
ecoFACTS Label
ecoFACTS can tell you how eco-friendly BenQ products are!
Development of eco-friendly products, BenQ doesn't just want to comply with green regulations passively, but also to actively develop eco-friendly products!
ecoFACTS declares BenQ's greatest efforts on the replacement of hazardous substances, material selection, packaging design, energy-saving design and other aspects of the products.