Saving More on Power Consumption with BenQ's SmartEco™ Technology
Offering lower TCO and optimized projection through dynamic power saving, uncompromised brightness, exquisite picture quality and optimized lamp life-SmartEcoTechnology has perfected what a DLP projector can do. With this innovation, schools and corporates are able to save up to 70% of lamp power consumption and lower maintenance costs through dynamic power saving features while bringing an ultra-vivid viewing experience into every presentation.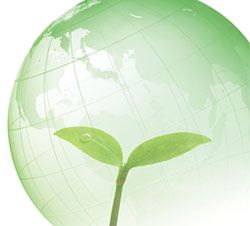 SmartEco Mode
The SmartEco Mode, which cleverly adjusts the lamp power to maximize power saving by delivering the best contrast and brightness performance using only as much light as needed.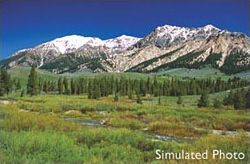 Normal Mode
270W Projector Power Consumption by Average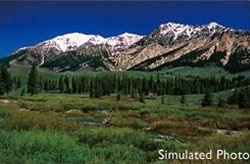 SmartEco Mode
Enhanced Details in Darkened Scenes
220W Projector Power Consumption by Average
(Source: 2010 Philips white paper)
LampSave Mode
Projector lamp replacement costs make up the biggest part of the total cost of projector ownership. The LampSave Mode is designed to adjust the lamp power dynamically by content brightness level to extend projector lamp life significantly by 50%! The lamp replacement frequency is also reduced by up to 50% to lower the replacement costs.
No Source Detected Mode
The automatic switch to Eco Blank Mode after the projector is turned on for over three minutes without a display source, eliminating unnecessary energy waste and prolonging the life of the projector lamp.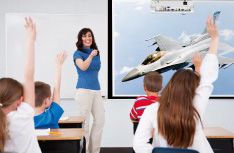 Full Power On
100% Lamp Power
Attention on the Projection Screen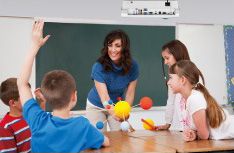 Eco Blank Mode On
30% Lamp Power at the Lowest
Attention on the Class Instructor
 0.5W in Standby Mode
When inactive, the MS527P keeps power consumption to a minimum with 0.5W standby power, achieving what was once a challenge for ealier projector models. This technological advancement in energy saving certainly helps extend the projector lamp life and lower energy costs.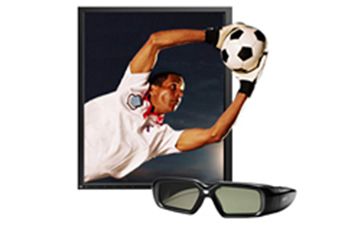 Blu-ray Full HD 3D Supported
BenQ MS527P is built with latest DLP® technology to support 3D functionality, allowing schools to bring an immersive learning experience to their students with a simple preparation of 3D glasses and 3D content from your blu-ray player.
BenQ DLP® Projectors Perfectly Long Lasting Picture Quality with DLP Projection Technology
Digital Light Processing (DLP), awarded 2015 Academy Award of Merit (Oscar® statuette), is the leading projection technology used in 90% of world's digital cinemas and 100% of IMAX theaters. With DLP dominating the worldwide projector market with over 50% share, BenQ is today the #1 bestselling DLP projector brand, delivering unmatched world-class performance.
Accurate
BenQ DLP Projectors produce the most intensely realistic colors and vivid images possible. By combining pioneering BenQ innovations such as interchangeable six-segment color wheels with DLP BrilliantColor™ Technology, our projectors accurately reproduce hard-to-match colors such as skin tones sRGB standards.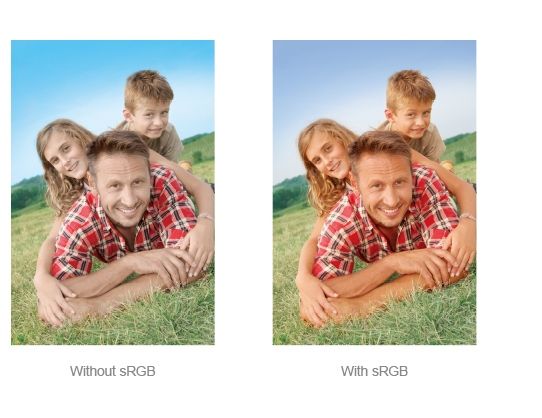 Long Lasting
The incredibly durable micro-mirrors of the DLP chip and the nearly-sealed DLP engine design mean that BenQ DLP Projectors stand the test of time without any loss in picture quality. Eliminating dust buildup and heat damage, BenQ projectors shine year after year and look as good as new with a simple lamp change.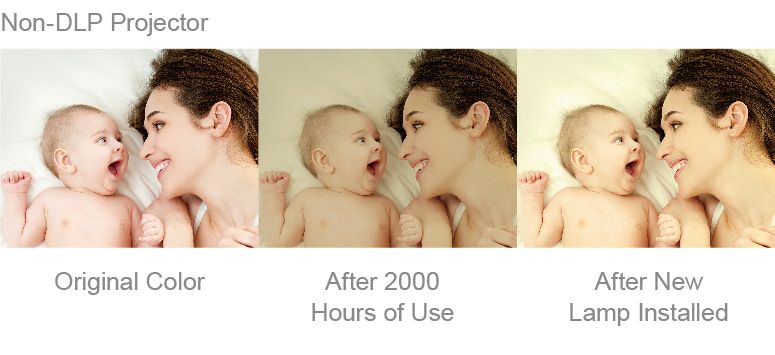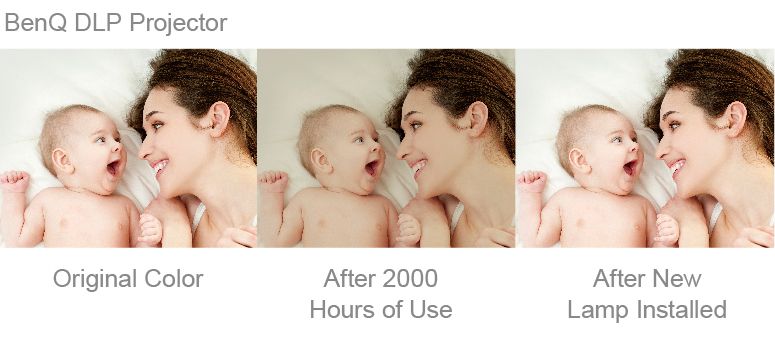 Razor-Sharp
Critically acclaimed for industry-leading high contrast, BenQ DLP Projectors also produce the most crisply defined sharpness for crystal-clear details and legible text by maximizing the fill ratio of individual pixels and employing exclusive BenQ SmartEcoTM Technology.